Third Annual Patient Experience Retreat Held at St. Peter's Hospital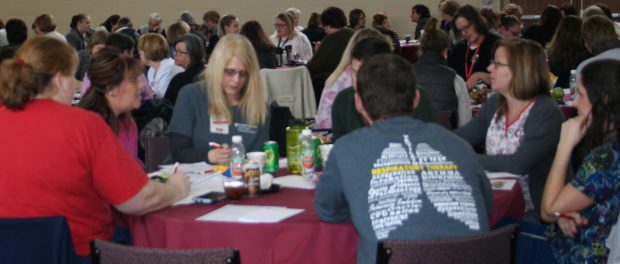 The St. Peter's Hospital Patient Experience Council hosted its 3rd annual Patient Experience Retreat on January 20 on the hospital campus. More than 150 staff members from St. Peter's Hospital and throughout St. Peter's Health Partners (SPHP) spent a half-day engaged in team building and knowledge sharing in order to improve the patient experience.
Guest speakers and several members of our own staff presented on topics including people-centered care, envisioning our future, purposeful hourly rounding, and empathy in our care. Distinguished guest speakers included Stacie Pallotta, MPH, from Strategic Consulting Services, and Mary Beth Hardy, RN, MPH, RLC, Vice President, People-Centered Care Experience, from Trinity Health. St. Peter's Health Partners presenters included Natasha Delehanty, RN, BSN, and Jenness Bivona, BS, Training Specialist, as well as several senior leaders including Virginia Golden, CEO, St. Peter's Hospital and Albany Memorial Hospital; and Celeste DesChamps, RN, MS, NEA-BC, Interim Chief Nursing Officer, St. Peter's Hospital.
The event, planned by Elizabeth Malloy, CRA, MSEd, RDMS, CT, RTR, Director of Medical Imaging ACA, and Mary Ann Hammond, RN, MSN, Nursing Consultant and former Director of Surgical Services for St. Peter's Hospital, educated staff on the global perspective to positively impact the patient experience and the components needed for successful change.
"Gathering our staff together for this special retreat gives them an opportunity to interact with other disciplines from throughout our hospital and our system, while sharing best practices and learning from experts in the field," Malloy said.
Staff were encouraged to bring back the knowledge gained to their individual units to share and proliferate learning.
"We have had such positive feedback from all that we've decided to make this a yearly event," Hammond said.
Planning for next year's event will begin shortly.