TogetherCare: St. Peter's Health Partners Epic Kickoff a Huge Success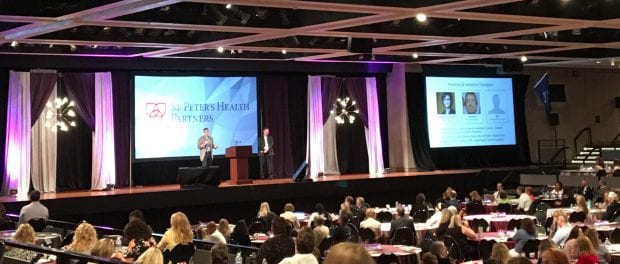 Hundreds of leaders from St. Peter's Health Partners (SPHP) gathered July 9 at the Empire State Plaza Convention Center, to launch TogetherCare and officially begin the yearlong implementation of Epic, an integrated platform for electronic health records (EHR) and revenue cycle systems.
Epic is scheduled to go live at all SPHP hospitals and ambulatory sites in June 2020. Work is already underway, with many SPHP colleagues participating as members of several decision groups, councils, and readiness teams.
SPHP Chief Clinical Officer Steven Hanks, M.D., served as master of ceremonies, opening the kickoff event with the message "It's Going to be EPIC!" displayed on screens at the convention center.
"Epic will catalyze our ability to achieve the Quadruple Aim on behalf of our patients – allowing us to provide better care for individuals and populations, with a high level of service, at a sustainable cost, and in a manner that engages and energizes our colleagues," Dr. Hanks said. "It is going to be a foundational element in our vision as we continue down the path of becoming an integrated, people-centered health care system."
Event attendees learned patients are at the center of Trinity Health's decision to transition its 22 ministries across the country – including SPHP – to a single EHR platform. Presenters included Dr. Hanks; SPHP Chief Financial Officer Thomas Robert; SPHP CEO and President James Reed, M.D.; SPHP Regional Chief IT Officer Chuck Fennell; and many others, including Trinity Health System Office leaders as well as partners from Epic.
In addition, the SPHP steering committee members took the stage and shared their "Why" – why they are excited to embrace the TogetherCare project and Epic as our integrated EHR and revenue cycle system.
Robert and Dr. Hanks are the Accountable Executives for the project.
The platform will enable a better care experience for the people we serve, providing a single, comprehensive health record with seamless access to clinical and billing information. It will also improve the experience for our providers and clinicians through integrated information to improve patient care and support seamless handoffs. Once implemented across Trinity Health's 22 health ministries, Trinity will be the largest installation of Epic worldwide.
"Patients will feel the difference in the care they receive from any Trinity Health facility," said Cindy Clemence, senior vice president and operations chief financial officer for Trinity Health. "It's important that we have one record for our patients to access information from one portal, make appointments online, and pay bills on time, in an integrated way."
The full video presentations of every speaker will be available for viewing on our SPHP intranet site in the coming weeks.