WRGB: Hospital Official – Second COVID-19 Wave is Already Here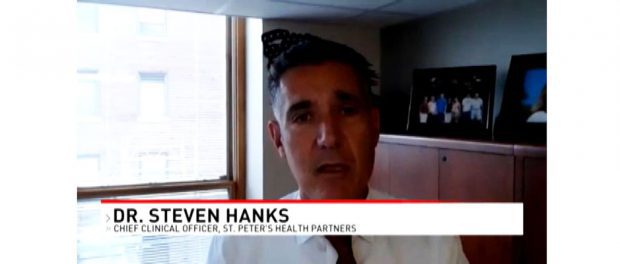 Steven Hanks, M.D., chief clinical officer for St. Peter's Health Partners, was interviewed by WRGB/CBS6 News about the increase in COVID-19 hospitalizations. Dr. Hanks discussed how regional hospitals are responding to the second wave of the virus.
From the story:
The chief clinical officer for Saint Peter's Health Partners did not hesitate when asked about what everyone fears – the possibility of a second wave. Doctor Steven Hanks says that second wave – is already here.

Dr. Hanks says they're already seeing a sharp increase in cases across all regional hospitals, not just Saint Peter's. and he says that surge started back at the beginning of October. In fact, Dr. Hanks says Saint Peter's is fast approaching the in-patient records that were hit back in the spring, when the virus was at its height here in New York.

The thing that's of real concern for Dr. Hanks, is that he says in neighboring states, the infection rate is spreading even faster than before.
Click here to watch WRGB's report.