Daily Gazette: The Best Gift – Babies for Christmas – St. Peter's Reports Record Births in 2019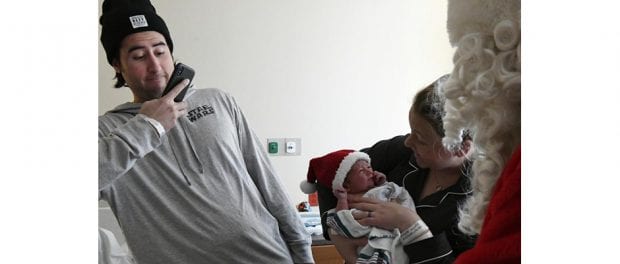 The Daily Gazette visited St. Peter's Hospital on Christmas morning to talk to staff, parents and Santa Claus, who stopped by to deliver gifts to newborns at the St. Peter's Hospital Hearst Family Center.
From reporter Jason Subik's story:
Gabriel Angelo Surgick, born 7 pounds, 15 ounces, was the only Christmas Day baby born at St. Peters by 9 a.m. Wednesday, but hospital spokesman Robert Webster said it was possible three other women might give birth before the end of the day.

"We've had a banner year for babies. Last week we celebrated our 3,000th baby, which is a record for our institution," Webster said.

Beverly Miller, team leader Wednesday of the nurses on St. Peter's maternity ward, said more babies have been added since then, giving the hospital 3,030 by mid-morning Wednesday.

"Births are down [nationally], but our hospital is the exception to that, our births are way up, she said. "We equate that to being baby friendly and the support the mothers are getting at their bedside."
Click here to read the full story.