NewsChannel 13: Men and Women Walk in Troy to Support Victims of Sexual Assault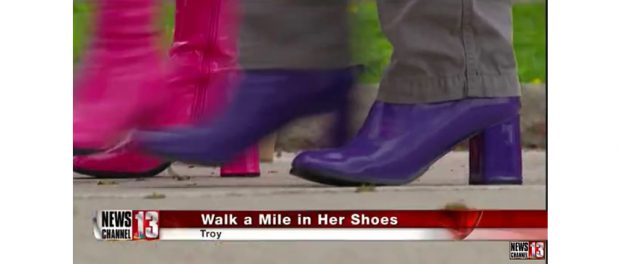 WNYT NewsChannel 13 aired a story about the 10th annual "Walk a Mile in Her Shoes" on Saturday at Riverfront Park in Troy. Held by the Sexual Assault and Crime Victims Assistance Program at Samaritan Hospital, the event is a community walk against rape, sexual assault, and gender violence.
From the story:
"It's really a fun opportunity to get together to talk about a really tough, serious topic, and obviously the shoes are symbolic of the pain that the victims of sexual assault feel," said Lindsey Crusan-Muse of Samaritan Hospital. "And while the men can take their shoes off in the end and relieve their pain, for survivors of sexual assault, it's not always that easy."
WNYT's own Dan Bazile, reporter and anchor of Weekend Today, emceed the event.
See the full report here.