LiveSmart: Massage Therapy Complements the Natural Childbirth Experience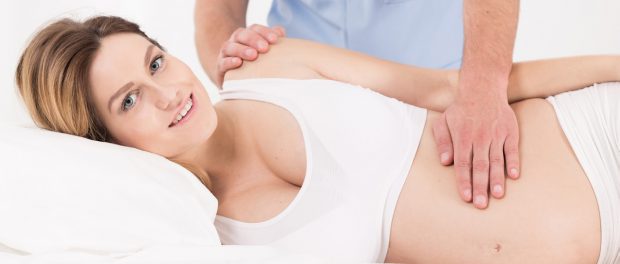 [This piece was written by Alicia Recore, Ph.D., MBA, director of the Holistic Integrative Therapy Program at St. Peter's Hospital.]
Clinical research and numerous studies over the years have reinforced what many patients and clinicians already knew – relaxation techniques such as massage, focused breathing and imagery are essential tools in your wellness toolbox. These holistic methods are proving to be especially beneficial for mothers who have chosen to pursue a natural childbirth experience.
The British Medical Journal recently published a study that followed 176 first-time mothers who completed a birthing course with a focus on complementary medicine techniques including visualization and relaxation, breathing, and massage. It found that participants experienced 35 minutes less of contractions and 'pushing' time and a 65 percent decrease in epidural rates.
The benefits of in-labor massage were particularly singled out, with study participants receiving massage therapy reporting reduced pain and decreased stress. The therapy, while helping to combat fatigue and restore energy to laboring women, was also noted for providing laboring mothers with physical comfort and a sense of personal control.
"It is unfair and unrealistic for us, as women, to expect our partners to be our sole support during labor, which can be long and painful," says Leonide Gabrilovitch, RN, LMT, Clinical Supervisor, Labor and Delivery Massage Program, St. Peter's Hospital. "St. Peter's massage therapy program offers laboring women free, hands-on techniques designed to help them manage the hard work of labor."
St. Peter's Hospital is pleased to offer massage services, free of charge, to women in labor who are pursuing a natural childbirth. Offered by St. Peter's Holistic and Integrative Therapy Program, in conjunction with St. Peter's Hospital Women and Children's Services, this service is provided by hospital-employed, licensed massage therapists who have been trained in labor and delivery progression.
Massage therapists are on-call to provide this service in St. Peter's Hospital from 8 a.m. to 6 p.m., Thursday though Tuesday. Patients who wish to take advantage of this offering should notify their nurse, physician, or midwife upon being admitted to the St. Peter's Hospital Labor and Delivery unit.
"The service is unbelievable for how effective it is . . . how skillful the therapists are, how nice they are, and that it is complimentary," said Dr. Michelle Osborn, a mother who utilized the service, alongside her husband Dr. Gregory Deacon, during her own natural birth delivery at St. Peter's this past summer. She noted the massage therapists "became important members of the team, and getting through [the delivery] without them might not have been possible."
Massage therapy for women in labor is one of many services provided by the Holistic and Integrative Therapy Program. The program offers a range of services to patients of all ages, across all levels of inpatient care, as well as to specific outpatient populations.
For more information about the Labor and Delivery Massage Program, please call 525-1174. For more information on St. Peter's Holistic and Integrative Therapy Program, please visit: http://www.sphcs.org/ComplementaryTherapy