LiveSmart: Celebrating Mother's Day in the Time of COVID-19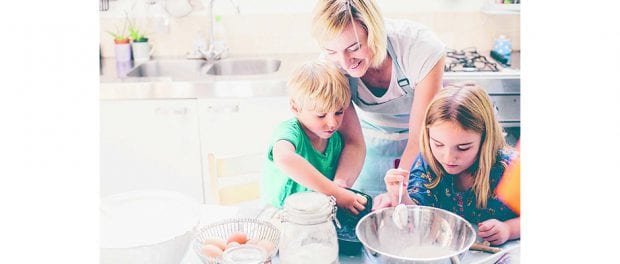 [This article was written by Lauren Coffey, RD, a clinical dietitian with St. Peter's Hospital.]
Dia de las Madres, La Fete de Meres, Mors Dag … most of us, regardless if we are mothers ourselves, can appreciate the feelings of rebirth and renewal as we bask in the Spring sunshine that surrounds Mother's Day. The idea of a day to honor mothers dates back to the Ancient Greeks and Romans, becoming a permanent part of the U.S. calendar in the early 1900s.
When celebrating mom, traditionally it is words like "family brunch," "breakfast in bed," or maybe "spa day" that come to mind. This year, however, "social distancing" has re-shaped our daily lives.
Being confined to the home for these past many weeks has meant slowing down, dusting off our neglected cookbooks, digging through boxes of old family favorites, or scouring the internet for inspiration. For many moms, cooking is one way that we share our love with our families.
Mother's Day is the perfect opportunity to bring the kids into the kitchen, let them get a little dirty, and make new memories with mom. Shopping these days can be unpredictable, so below is a recipe as flexible as you are – Mother's Day blueberry French toast casserole with streusel topping, suitable for breakfast in bed or brunch with the family.
The beauty of this dish is it can be made the night before and popped into the oven in the morning. Try different fruits, nuts, or crispy bacon on top. The kids can help prep and mix ingredients. If your mom is close by (or you know a nearby mom who needs some extra love), make an extra batch for a delicious Mother's Day delivery.
Although we may not be able to spend this special day with all of the mothers in our lives, we can continue to honor them and cherish these moments together at home.
Blueberry French Toast Casserole
(Source: https://sallysbakingaddiction.com/unbelievable-blueberry-french-toast-casserole/)

Prep Time: 25 minutes

Cook Time: 40 to 50 minutes

Servings: 12

Ingredients
1 (12-14 ounce) loaf of day-old French bread, sourdough bread, or challah

1 cup fresh or frozen blueberries

8 large eggs

2 ¼ cup whole milk

½ teaspoon ground cinnamon

¾ cup packed light brown sugar

1 Tablespoon vanilla extract

Streusel Topping
⅓ cup packed light brown sugar

⅓ cup all-purpose flour (spoon & leveled)

½ teaspoon ground cinnamon

6 Tablespoons unsalted butter, cold and cubed

Optional: Extra blueberries, fresh fruit, maple syrup, and/or confectioner's sugar for topping.

Instructions

In a greased 9×13 inch pan, toss bread (torn into one-inch pieces) with blueberries.
Whisk together the rest of the ingredients and toss with bread and blueberries to coat well.
Allow to sit covered in the refrigerator for three hours or overnight.
When ready to bake, heat oven to 350 degrees. Prepare the streusel topping by mixing ingredients and cutting in the cold butter cubes with a fork. Spread topping over casserole.
Bake for 40-50 minutes, until golden brown.
Top with maple syrup, milk, yogurt, more blueberries, or confectioner's sugar and enjoy!