St. Peter's Hospital Achieves Prestigious NICHE Senior Friendly Designation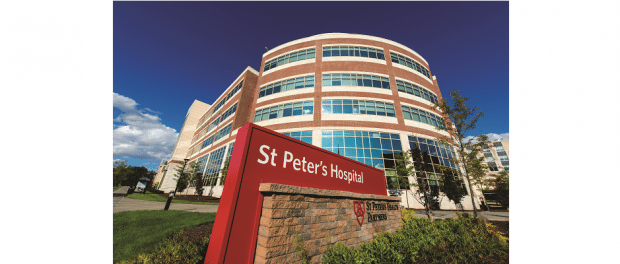 St. Peter's Hospital has earned Senior Friendly designation from NICHE, which stands for Nurses Improving Care for Healthsystem Elders. NICHE is a national nurse-driven program that validates a hospital's commitment to excellence in the care of patients age 65 or older.
The 'Senior Friendly' status is the second-highest level of recognition in the NICHE program.
"We are extremely proud to receive this recognition," said Celeste DesChamps, RN, MS, NEA-BC, interim chief nursing officer, St. Peter's Hospital. "Our nursing staff at St. Peter's Hospital recognizes that older adult patients have specialized needs and that patient- and family-centered care is imperative to creating a positive experience for the older adult patient. With the number of seniors in need of hospital-based care growing every year, this level of sensitive and responsive care has never been more important."
St. Peter's Hospital earned the designation as the result of adopting several initiatives aimed at offering optimal geriatric care. Initiatives include ensuring the presence of Geriatric Resource Nurses (GRN) on more than one nursing unit; implementing systemic aging-sensitive policies; prioritizing transitional care processes; and including the input of patient, families, and community-based providers in the planning and implementation of the NICHE program.
St. Peter's Hospital, an affiliate of St. Peter's Health Partners, has received numerous awards and accolades over the years for its high quality, compassionate care. Most recently, U.S. News & World Report awarded the hospital its highest ranking in the Capital Region and one of the highest rankings in New York state for excellent quality of care.
St. Peter's Hospital is the largest Catholic acute care community hospital in northeastern New York state. The hospital, founded in 1869 by the Religious Sisters of Mercy, is a voluntary, not-for-profit community tertiary hospital with 442 beds, more than 900 staff physicians, and nearly 6,000 employees. St. Peter's Health Partners is a member of Trinity Health.
Learn more about St. Peter's Hospital at: www.sphp.com/sph
The NICHE program of the New York University Rory Meyers College of Nursing provides resources for nursing and interdisciplinary teams to achieve organizational goals for the care of older adult patients.
For more information about NICHE, visit www.nicheprogram.org.