Times Union: St. Peter's Touts Minimally Invasive Surgery Program with Robot Race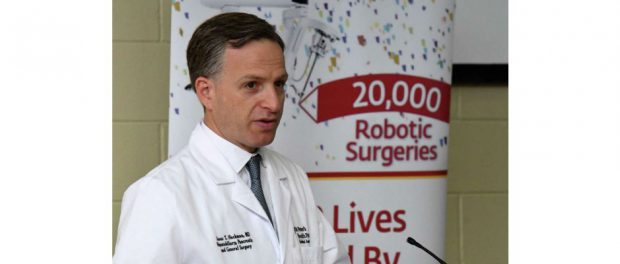 St. Peter's Health Partners' (SPHP) 20,000th robotic surgery milestone was featured in the Times Union. 
The article featured interviews with James K. Reed, M.D., president & CEO, SPHP; Jason Heckman, M.D., medical director of minimally invasive surgery at St. Peter's Hospital; Christopher Bloss, M.D., medical director of minimally invasive surgery at Samaritan Hospital; and two of the surgeons' patients.
From the article:
Surgeons compared the Da Vinci machine to a video game that enables them to "see and move in 3-D" while performing delicate procedures without larger surgical incisions to cut open the body.

"Because of this, the surgery is much gentler on the patient," Bloss said. "Many of our patients don't even require narcotic pain medication."

St. Peter's, which acquired its first Da Vinci robot in 2004 and now has six machines, has performed 20,000 surgeries using the technology, which places the hospital in the top 1 percent in the country when it comes to its volume of minimally invasive surgeries, hospital officials said.

In a "race the robot" challenge designed to demonstrate how easy it is to use the machines, hospital staff, former patients and reporters, were challenged to use the apparatus to perform the fine motor task of lifting tiny rubber bands and placing them on corresponding colored knobs.

"We are going to see who is quicker, surgeons or anyone else … as soon as you get on there, I think you will get a feel for it," SPHP President and CEO James K. Reed said.

Former patient Mercy Dugan-White said having her spleen and chunks of pancreas removed by SPHP surgeon Dr. Jason Heckman was so easy, it was "like getting a manicure."

"No pain. I was in the hospital for a couple of days but never took any pain medicine. I was walking around," she said.

Watching the robot at work on Friday, she said is amazed that Heckman was able to extract major organs through a tiny cut.
Click here to read the full story.