Troy Record: A Place To Heal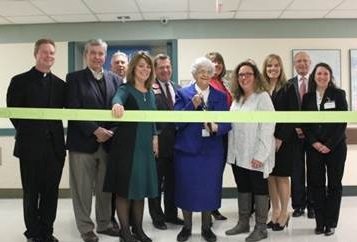 The Record published a piece about last week's opening of the Sister Mavis Jewell Medical Respite program, the first medical respite program in the Capital Region. Led by the Interfaith Partnership for the Homeless and housed at St. Mary's Hospital in Troy, the program is named for Sister Mavis Jewell, of St. Peter's Health Partners and the Daughters of Charity.
The program will serve one of the area's most vulnerable patient populations – homeless individuals who are discharged from the hospital and require recuperative care beyond what can be provided in a traditional shelter setting.
From the article:
The program serves homeless patients who are hospitalized and require recuperative care upon discharge, but do not have access to a stable environment in which to receive ongoing care. Medical respite is short-term residential care that allows people to rest in a safe environment with access to care and supportive services such as meals, personal care, medications, treatment and home-care services. While patients are recovering, case managers also assist in helping to find shelter or housing.
Click here to see the article.