WRGB: Cardiac Patients Reunite with the Medical Teams that Saved Their Lives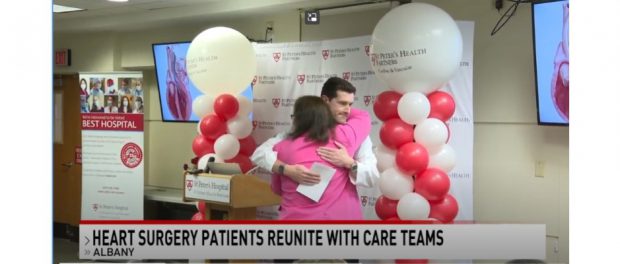 The Heart Recovery Reunion held May 25 at St. Peter's Hospital was featured on WRGB/CBS6 News. The event reunited two cardiac surgery patients with the care teams who helped save their lives.
From the report:
Cardiovascular doctors, nurses, and caregivers were able to receive a big thank you from both families.

One of the patients, Marija Sebastian, is a mom of four.

Doctors from St. Peters Hospital found her heart had a blockage, she was revived 5 times and survived through surgery.

"Basically within 10 days of having this massive complication of five heart arrests I was back at work baking cakes for my kids and just celebrating their birthdays and none of that would have been possible had it not been number one for the skill of the physicians and the team that has taken care of me."

The other patient filled with tears in her and her husband's eyes, as they heard of the work the doctors also did to save her life.
Click here to watch WRGB's report.