WRGB CBS6 News: Breaking the Stigma of Opioid Addiction Treatments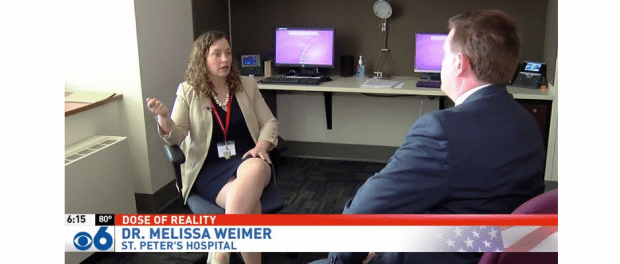 WRGB CBS News aired a story with Dr. Melissa Weimer, chief of behavioral health and addiction medicine for St. Peter's Health Partners. Dr. Weimer talked about three FDA-approved medications for treating opioid withdrawal, and the stigma surrounding them.
From the story:
Those drugs are Methadone, Buprenorphine, and Naltrexone. The first two are actually opioids, while Naltrexone – also the newest medication – is an opioid blocker. Dr. Weimer says because Methadone & Buprenorphine are opioids, they too come with a stigma.

"People will say 'oh you're just exchanging one drug for another' and that's part of the stigma that actually keeps people away from this life saving medication," Weimer said. "What's inherently different about them is they're very long acting so someone doesn't take them and feel euphoria typically" she added.
Click HERE to watch the story.