WTEN: Limited Visitation to Begin at Some Area Hospitals on March 8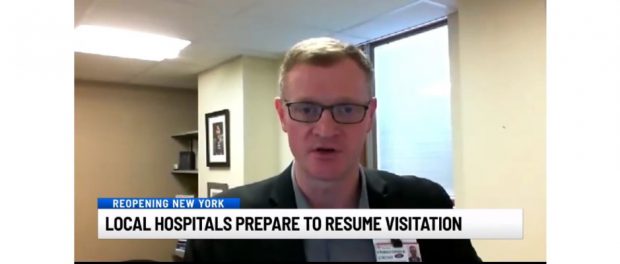 WTEN/News10 interviewed Christopher Jordan, chief nursing officer and vice president of patient care services for St. Peter's Health Partners Acute Care, regarding the decision to resume limited visitation at SPHP hospitals, beginning March 8.
From the story:
According to SPHP, a joint decision to allow limited visitation was made between the hospitals because of a decrease in the number of positive coronavirus cases in the region. Each hospital will have its own set of guidelines.

"The inability to visit a loved one during this COVID pandemic has been one of many, but one of the true tragedies of the situation," said St. Peters Vice President of Patient Care Services Christopher Jordan.

Jordan hopes the new portals will also be an incentive for people who are delaying care or who need elective surgery.

In June of 2020, when Capital Region hospitals had similar protocols, the CDC said 41 percent of adults delayed or avoided medical care.

"We're hoping that this is something that will encourage people to no longer delay. We do believe lifting of these restrictions will encourage that behavior as well," Jordan said.
Click here to watch WTEN's report.