WRGB: Hospitals Closely Monitor Capacity, Leaders Say Beds Still Available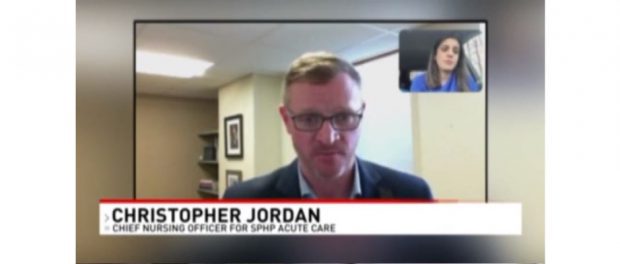 Christopher Jordan, chief nursing officer for St. Peter's Health Partners Acute Care, was interviewed by WRGB/CBS6 Albany for its story on hospital capacity in the Capital Region. Jordan addressed adjustments being made at SPHP hospitals to care for the growing number of COVID-19 patients.
From the story:
"We are certainly at a place, as are many hospitals in the region and nationally, tight on inpatient beds and critical care beds. And are continuing to work on a daily basis to ensure that we have the appropriate resources to support setting up additional capacity." Christopher Jordan, the Chief Nursing Officer for St. Peter's Health Partners of Acute Care said. He said they're at 80% capacity for med/surg and ICU beds.

Jordan says they speak with the state DOH often, and speak daily with the other hospital leaders to compare numbers and plan together. They discuss bed capacity, transferring patients if needed, and converting rooms.
Click here to watch WRGB's full report.