WRGB: St. Peter's Health Partners updates COVID precautions for visitors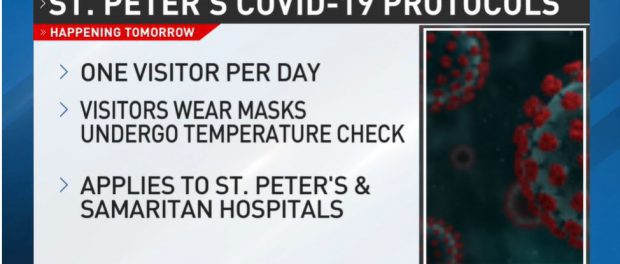 WRGB/CBS6 News reported on SPHP's new hospital visitation guidelines, effective April 25, 2022, which restrict visitation to one visitor, per patient, per day. The move comes as positive COVID-19 cases continue to climb nationally, regionally, and locally.
From the story:
COVID protocols for visitors at St. Peter's Health Care locations will change starting April 25th. Patients will be allowed one visitor per day now.

Those visitors will be required to wear a mask, undergo a temperature screening, and check in with nurses upon arrival and departure.

This applies to St. Peter's Hospital and Samaritan Hospital. The reason for the change — the rising COVID-19 cases. On Friday, both Albany and Rensselaer Counties were added to the CDC's high risk list.
Click here to watch WRGB's story.