WTEN: Doctor Offers Guidance Amid Healthcare Worker Shortage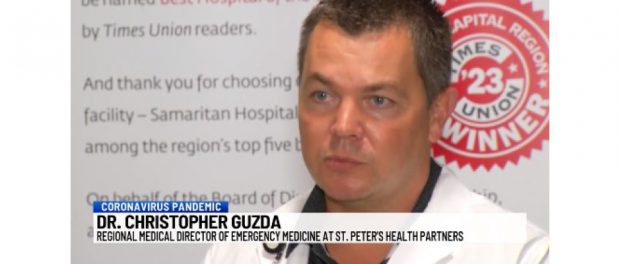 Dr. Christopher Guzda, regional medical director of emergency medicine at St. Peter's Health Partners, discussed the importance of self-care ahead of the respiratory virus season during an interview on WTEN/News10.
Dr. Guzda explained that COVID-19 cases are once again starting to rise and that, combined with flu and RSV could strain the health care system in the coming months.
From the story:
"There is a healthcare worker shortage nationally. You could say globally, even," said Dr. Christopher Guzda, Regional Medical Director of Emergency Medicine at St. Peter's Health Partners.

According to Dr. Guzda, respiratory season could pose a challenge to an already stressed facility.

"By not having the appropriate staffing numbers, we're not able to open up full capacity at a hospital," Dr. Guzda said. "During respiratory season, if we see an increase in respiratory cases that require admission, that'll further strain our system."

That's why he urges you to only go to the emergency room if you're experiencing severe respiratory symptoms, chest pain, or other acute life-threatening symptoms.