WTEN: Officials Ask People to Avoid Emergency Services for Mild COVID Symptoms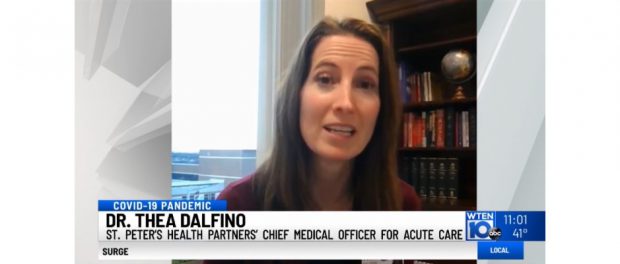 Thea Dalfino, MD, chief medical officer for SPHP Acute Care, discussed the surge in demand for COVID-19 tests during an interview with WTEN/News10.
Dr. Dalfino stressed that people with mild COVID symptoms, or those who are asymptomatic, should not go the emergency department to get tested.
From the story:
Crowded urgent cares with packed parking lots are having a domino effect on hospitals. Dr. Thea Dalfino says emergency room waits can be many hours long.

"We need to save the emergency departments for the patients that are really sick, who need urgent and emergent care."

Dr. Dalfino is the chief medical officer for Acute Care at St. Peter's Health Partners. She says there are certain symptoms you should go to the emergency room for.

"Patients who have chest pain, shortness of breath, severe dehydration, confusion, or prolonged fevers should go to the hospital and get tested," said Dr. Dalfino.
Click here to watch WTEN's report.