WTEN: St. Peter's Hospital Receives Face Shields from Kia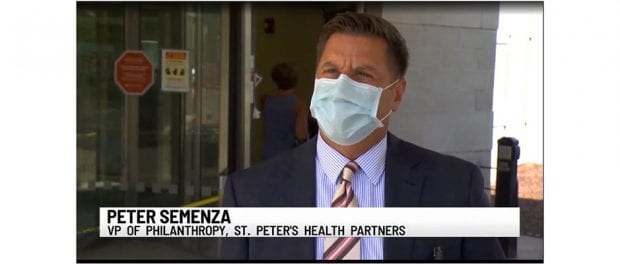 WTEN/News 10 interviewed Peter Semenza, vice president of philanthropy for St. Peter's Health Partners, for its story on the donation of 468 face shields to St. Peter's Hospital, thanks to Destination Kia.
As one of the top Kia dealerships in the country, Destination Kia received the shields from the Kia Motors manufacturing plant in West Point, Ga. They were asked to donate them to a local health care organization and Destination Kia selected St. Peter's as their beneficiary.
Semenza noted the donations of personal protective equipment (PPE) from the community have "really helped us get through this COVID-19 crisis" and that more than $450,000 worth of PPE has been donated to the hospital to date.
Click here to watch WTEN's report.