150th Anniversary of St. Peter's Hospital – A Century and a Half of Service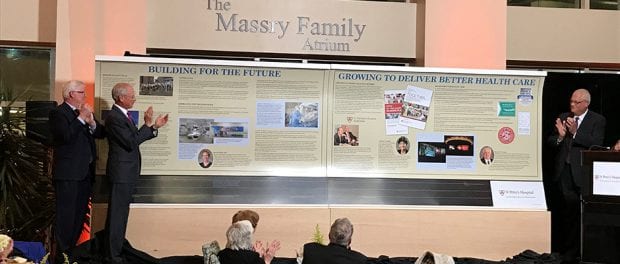 St. Peter's Hospital celebrated its 150th anniversary on Friday, November 1, with the unveiling of an expanded Wall of History documenting its legacy of community service to the Capital Region.
SPHP leaders presented two new eight-foot panels during a reception held in the hospital's Massry Family Atrium. The new additions chronicle the past 15 years in the institution's history. The full, 13-panel Wall of History highlights major milestones that collectively have positioned St. Peter's Hospital as one of upstate New York's largest and most respected healthcare providers.
Community leaders and friends of the hospital joined SPHP executives and board members to celebrate the anniversary during the evening reception. Emceed by SPHP Acute Care President Michael Finegan, the event featured brief remarks from James Reed, M.D., president and CEO of SPHP; Sister Gail Waring, Religious Sisters of Mercy; Sam Bosco, M.D., FASEP, regional medical director, Envision Physician Services and director of emergency medicine for SPHP; Peter Semenza, vice president of philanthropy for SPHP; and U.S. Congressman Paul Tonko. Rabbi David M. Eligberg from the neighboring Temple Israel of Albany offered the evening's blessing, and Father John Tallman, St. Peter's Hospital chaplain, presented the evening's closing benediction.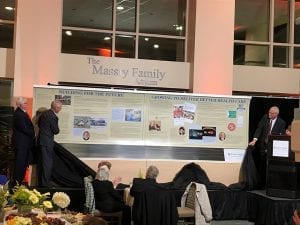 The evening paid tribute to the four Religious Sisters of Mercy who founded St. Peter's Hospital on All Saints Day, November 1, 1869, and their successors who provided the vision and mission for St. Peter's to become a transforming, healing presence in the Capital Region.
"The Sisters of Mercy's mission to heal the sick while treating all persons with dignity and respect set this hospital on a path of healing and compassion," said Dr. Reed. "It is a path that has guided us for 150 years, and continues to guide us every day."
"St. Peter's Hospital would not be the respected leader it is today without the dedication of the tens of thousands of people who built this institution and continue to further its legacy. They include our current employees, medical staff, board members, auxiliary and volunteers. They have all given the gift of their talents and have worked with great pride to extend the legacy of the Sisters of Mercy each day," said Finegan.
St. Peter's Hospital was established in downtown Albany in 1869 after the four Religious Sisters of Mercy journeyed to Albany from New York City in 1863. They began their mission in Rensselaer, arriving with 80 cents in total (about $9.48 in today's dollars). The first hospital was financed thanks to a very generous donation of $15,000 from the family of the late attorney, Peter Cagger, for whom the hospital is named.
Because the first hospital was so busy, it was expanded several times. However, it moved to a new building on its current site at New Scotland Ave. and South Manning Blvd. in 1930. In 2011, the Hearst Pavilion opened, culminating a decade-long, $258 million expansion and renovation.
Throughout its history, St. Peter's added technological innovations and new procedures that improved patient care. These included pioneering efforts in infection control, antiseptics and X-rays. The latest advances include robotic-assisted, minimally invasive surgery, very precise radiation for cancer treatment, and the latest innovations in cardiac surgery, including angioplasty and ventricular assistive devices.
St. Peter's Hospital is now part of St. Peter's Health Partners, created in 2011 from the merger of St. Peter's Health Care Services, Seton Health, and Northeast Health. With 12,000 employees in more than 185 locations, St. Peter's Health Partners is the Capital Region's most comprehensive not-for-profit integrated health care network, which provides high-quality, compassionate, and sophisticated care to thousands of people every day. St. Peter's Health Partners is a member of Trinity Health, one of the nation's largest Catholic health systems.
In recent years, St. Peter's has won numerous national and state honors for its high-quality care. In 2018-2019, U.S. News & World Report awarded St. Peter's Hospital its highest ranking in the Capital Region and one of the highest in New York state for excellent quality of care. St. Peter's has also received the Women's Choice Award as an America's Best Hospital for Obstetrics and Heart Care for five consecutive years (2015-2019), and was also honored in the categories of Cancer Care (2017, 2018, 2019), Bariatric Surgery (2018, 2019), Breast Centers (2018, 2019), and Orthopedics (2018, 2019). St. Peter's Hospital is also a designated Blue Distinction Center for Cancer Care, Maternity Care, Cardiac Care, and Knee and Hip Replacement. For a full list of accolades visit https://www.sphp.com/accolades