Destination Kia Donates Face Shields to St. Peter's Hospital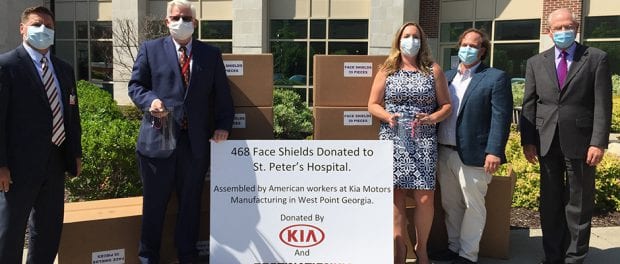 As the battle against COVID-19 continues, we continue to be humbled by the generosity of the Capital Region community. Residents and local businesses have been reaching out over the last several months to help ensure our health care workers at St. Peter's Health Partners (SPHP) have the necessary personal protective equipment (PPE), as well as food and respite care. The latest of those amazing donations recently came from Destination Kia in the form of 468 face shields to front-line workers at St. Peter's Hospital.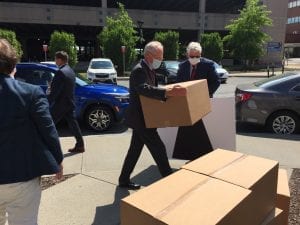 As one of the top Kia dealerships in the country, Destination Kia received the shields from the Kia Motors manufacturing plant in West Point, Ga. They were asked to donate them to a local health care organization and Destination Kia selected St. Peter's as their beneficiary.
Peter Semenza, vice president of philanthropy for St. Peter's Health Partners, noted in an interview with WTEN news that the donations of PPE from the community have "really helped us get through this COVID-19 crisis" and that more than $450,000 worth of PPE has been donated to the hospital to date.
Our thanks to James and Meagan Morrell from Destination Kia for personally dropping off the face shields, which were gratefully accepted by Semenza; Dr. James Reed, SPHP president and CEO; and Michael Finegan, president of Acute Care for SPHP. James Morrell, the general manager for Destination Kia, is a member of the board for the Community Hospice Foundation.