SPHP To Host Journey Through The Body on April 17-18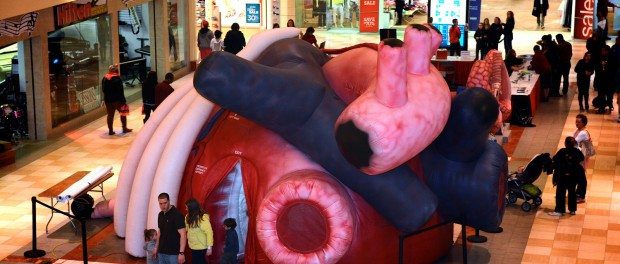 St. Peter's Health Partners will host its 16th annual Journey Through The Body, a hands-on discovery adventure, on Friday, April 17, from 10 a.m. to 9 p.m. and Saturday, April 18, from 10 a.m. to 6 p.m. at Colonie Center in Albany.
This free, two-day family community health educational event is designed to educate children and their parents about select parts of the human body and to learn about their functions, components, strengths and limitations, and ways to lead an active healthy lifestyle. The presentations are coordinated by clinicians from St. Peter's Health Partners. Clinicians will be available to guide children and their parents through the models and answer questions. The goal of the program is to develop and promote healthy habits in children.
At Journey Through The Body, kids can explore larger-than-life-sized models of the heart, brain, lungs, ear, teeth and more. Kids can walk through the giant, inflatable models of the heart and brain, getting an up close and personal look at how these important organs work.
Boasting what is likely the Capital Region's largest ear, Journey Through The Body features a dramatic model that is nine feet tall, eight feet wide and 19 feet long. Pulsating lights show how sound moves through the ear and the dangers of exposure to loud noises or music. The model, like all exhibits at Journey, is handicapped-accessible.
Also returning is The Big Colon – a 10-foot-long model that kids can walk into and see the inner workings. Similarly, kids can slide down a larger-than-life model of a human leg, and see and touch real hearts and lungs to explore how they work.
The growing concern over childhood obesity is addressed at exhibits that promote proper nutrition, exercise, and food preparation and handling. There are also exhibits on infection control and protection against skin cancer.
An exhibit on careers in health care provides information for adults and children alike. And young and old alike can benefit from a visit to the "Growing Older" exhibit, which looks at how the body ages, provides insight into how the older people in children's lives experience the world and looks at how they can best stay healthy and safe.
More than 600 St. Peter's Health Partners employees and volunteers work at the event. They include clinicians, college and high school students and members of the community. Volunteers are always needed. For more information on volunteering, please contact St. Peter's Volunteer Office at 518-525-1515.
For more information on Journey Through The Body, visit www.sphcs.org/jttb