Eddy Visiting Nurse Association Recognized As One Of Country's Top Agencies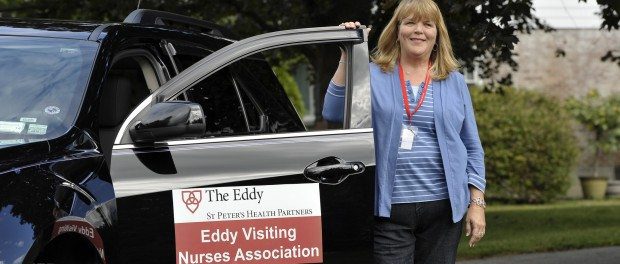 Eddy Visiting Nurse Association (Eddy VNA) – an affiliate of The Eddy not-for-profit network, and a member of St. Peter's Health Partners – has been recognized as a 2014 Top Agency by the HomeCare Elite, an annual compilation of the most successful home care providers in the United States.
The HomeCare Elite reviews Medicare-certified home health agencies across the country and identifies the top 25 percent of agencies based on publicly available performance measures, including quality outcomes, best practices/process measure implementation, patient experience, quality improvement and consistency, and financial performance. The report, a market-leading review, is conducted by OCS HomeCare by National Research Corporation and DecisionHealth.
The region's leading provider of comprehensive in-home health care services, Eddy VNA has been recognized on the HomeCare Elite list for seven of the last eight years previously, including two years in which it achieved Top 500 Agency status.
"We are thrilled to once again make the HomeCare Elite's top agencies list," said Michelle Mazzacco, vice president of the Eddy VNA. "This honor truly reflects the commitment and skills of our entire home care team who are dedicated to providing high quality, compassionate care to all those in need."
"The 2014 HomeCare Elite winners demonstrate a commitment to providing high quality home health care in their communities and we are pleased to be able to recognize them for their remarkable achievements," said Mary Oakes, senior vice president of post-acute care at National Research Corporation.
"In today's health care ecosystem, it is imperative that our seniors have access to quality home health care in order to ensure better patient outcomes and improve overall costs, and therefore, home health care continues to remain an integral part of the care continuum," said Marci Heydt, product manager for the post-acute care business group of DecisionHealth.
Eddy VNA serves Albany, Rensselaer, Saratoga, Schenectady, Columbia and Greene counties. Services include visiting nurses; physical, occupational and speech therapists; certified home health aides; medical social workers; nutritionists; and others. Specialty programs include wound care; home infusion therapy; diabetes care; palliative care; and telehomecare. For more information on home health care services, please contact Eddy VNA at (518) 274-6200.