Eddy VNA Renamed "Eddy Visiting Nurse and Rehab Association"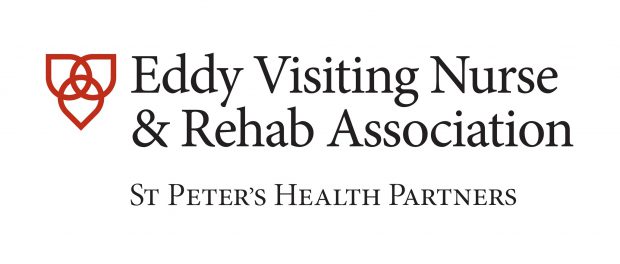 Eddy Visiting Nurse Association, a member of The Eddy not-for-profit network of senior services, has been renamed Eddy Visiting Nurse and Rehab Association (Eddy VNRA) to better reflect the expanded range of home-based rehabilitation services the agency now provides to meet the changing needs of home care patients. The name change is effective immediately.
"Today's medical advances make it possible for more patients to return directly home from the hospital, with the home-based rehab services they need delivered right to their door steps," said Michelle Mazzacco, vice president and executive director of Eddy VNRA, and the Eddy Community Services Division. The Eddy is an affiliate of St. Peter's Health Partners.
"Hospitals now discharge patients sooner, with more intense and acute home care needs – more patients are discharged directly home, and the length of time patients are in sub-acute rehab facilities is shorter than in the past," said Mazzacco. "Therefore, a safe discharge plan often includes continued therapy at home.
"These changes have prompted a sharp increase in the demand for home-based therapies, so our new name really highlights the scope and depth of rehab services that we now make available to care for the emerging needs of patients across the greater Capital Region," said Mazzacco.
With the needs of patients shifting, it is estimated that nearly 40 percent of Eddy VNRA patients are now using home-based therapies, compared to about 10 percent just a few years ago.
Mazzacco added that while people typically think of a visiting nurse or home care agency as offering only nurses and home aides, Eddy VNRA currently employs nearly 100 physical, occupational, and speech therapists – nearly one-third of the total staff.
"Eddy Visiting Nurse and Rehab Association is the only home health agency in the region – and one of only a few in the country – that provides advanced therapies at home," said Lisa Lemery, rehab manager, who cited several unique and advanced treatments that Eddy VNRA provides that most home health agencies do not, including:
Anodyne Therapy – emission of infrared light applied to any part of the body to increase circulation, reduce pain, stiffness and muscle spasms to help address a physical deficit, such as difficulty with ambulation, weakness, or balance impairments.
Vital Stim – a safe and effective treatment for patients suffering from swallowing difficulties or dysphagia. A certified speech pathologist provides a non-invasive external electrical stimulation placed on the throat during a swallowing exercise to help accelerate recovery time from a restricted diet.
Bioness – Eddy VNRA is the only home care agency in the area to offer this advanced technology. The wireless system electrical stimulation helps individuals with neurological central nervous system dysfunction regain mobility. Bioness is programmed to activate nerves and muscles in the foot for foot drop and in the hand for patients who have suffered a stroke or have another neurological impairment to facilitate movement or activity.
IPADS – Eddy VNRA has also begun to use IPADS for everyday training with patients in their home. Apps include visual perceptual, cognitive, memory, scanning and many other programs.
"Bringing rehab services into the home setting enables patients to recover where they prefer and where they are most comfortable," said Lemery. "In their own homes, patients can learn how to safely adapt to their normal environments – with less incidents and safety issues – while they continue improving the skills needed to perform daily activities. As a result, patients can regain mobility and return to the highest level of function possible, as quickly as possible."
Additionally, Mazzacco added, studies have linked the use of home health care after a hospital stay with more cost-effective care and lower readmission rate in many cases.
Home-based rehabilitation – including physical, occupational and speech therapies – can help patients recovering from short-term illness and injury, hip surgery, joint and knee replacements, stroke, congestive heart failure, and other conditions.
Eddy VNRA services include visiting nurses, certified home health aides and personal care aides, therapists, nutritionists, medical social workers, and more. Specialty programs include telehomecare, care transitions coaches, home infusion, wound care, palliative care, and certified diabetes educators.
For more than 100 years, Eddy VNRA has been providing comprehensive, high quality in-home health care services that help individuals remain independent and in their own homes. Headquartered at 433 River Street in Troy, Eddy VNRA cares for more than 12,000 patients yearly.
For more information about therapy services or employment opportunities, please call Eddy Visiting Nurse and Rehab Association, 518-270-1314.