Merger Creates St. Peter's Health Partners; Region's Most Comprehensive Health Care Provider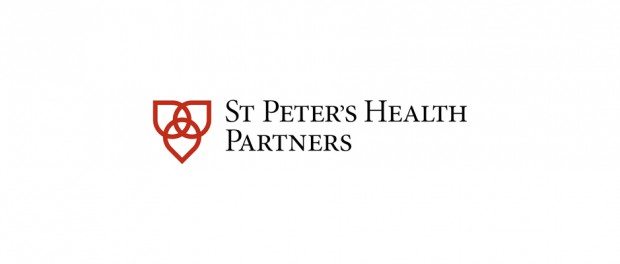 As the clock ticked past midnight early Saturday morning, October 1, the future of health care delivery in the Capital Region changed.
The merger of Northeast Health, St. Peter's Health Care Services and Seton Health – nearly four years in the making – became final on October 1 when St. Peter's Health Partners (SPHP), a new not-for-profit organization that will be the "parent corporation" for the three organizations, became operational.
The merger creates the region's largest and most comprehensive not-for-profit network of high-quality, advanced medical care, primary care, rehabilitation and senior services. These state-ofthe-art services and programs will be provided through Albany Memorial Hospital and St. Peter's Hospital in Albany; Samaritan Hospital and St. Mary's Hospital in Troy; Sunnyview Rehabilitation Hospital in Schenectady; as well as The Eddy system of continuing care and The Community Hospice.
The new organization has more than 11,700 employees at more than 125 locations in seven counties of northeastern New York. St. Peter's Health Partners will be the region's largest private employer and have an annual budget of nearly $1.1 billion. While the new organization became operational on October 1, full integration may take up to three years.
The announcement was made at a press conference today that included: Steven Boyle, chief executive officer of St. Peter's Health Partners, and James Reed, MD, president of St. Peter's Health Partners. They were joined by more than a dozen recently appointed members of the new organization's senior leadership team and leadership of its Board of Directors.
"This is an historic step forward for health care in our region. When we began this process in 2007, our intention was to explore whether there were collaborative ways that we could improve quality, cost-effectiveness and accessibility of health care in the Capital Region and beyond," said St. Peter's Health Partners CEO Boyle. "From our very first meeting, there was a feeling of trust, openness and cooperation that has prevailed throughout this lengthy process.
"Although it has taken longer than we originally anticipated, the knowledge gained from this far-reaching process, along with developments such as national health care reform, made it more and more apparent that this merger is the right thing to do for the communities served by our medical institutions," Boyle said. "What we learned made each of the parties more determined than ever to see this merger to completion."
"For many years now, each of our organizations have proudly, but individually, met the healthcare needs of our communities. Today, as St. Peter's Health Partners, we will be better positioned to forge new partnerships with physicians and other providers to design new service delivery models to improve quality and ensure our communities have easy access to high quality, state-of-the-art care," said Dr. Reed, president.
"We will truly be pioneering healthcare reform at the local level by offering greater coordination, increased efficiency and community-driven innovation," Dr. Reed said. "We are fortunate to have dedicated and skilled physicians, nurses and staff, all of whom have demonstrated their willingness to work together on this exciting journey. We look forward to the future as we begin a new era of healthcare delivery in the Capital Region as St. Peter's Health Partners."
The official corporate address for St. Peter's Health Partners is 315 S. Manning Blvd., Albany, NY, 12208. Members of the Senior Leadership Team and other corporate, business and financial functions will initially remain in their current locations throughout the system. The phone number for St. Peter's Health Partners is 518-525-1111.
SPHP will be governed by a board structure with membership drawn from all three organizations. The new SPHP Board of Directors met for the first time at an Organizational Meeting on Tuesday, September 27. Robert Johnson and Sydney Tucker Jones were elected co-chairs of the St. Peter's Health Partners Board of Directors.
The Board also approved the organization's new Mission: "Founded in community-based legacies of compassionate healing, we provide the highest quality comprehensive continuum of integrated health care, supportive housing and community services, especially to the needy and vulnerable."
St. Peter's Health Partners was incorporated with the New York State Secretary of State on August 15, 2011. The new organization became officially operational on October 1, 2011 after legal documents were filed with the Secretary of State on September 30 by Northeast Health, St. Peter's Health Care Services and Seton Health. These and other filed documents provide the necessary legal linkages among all of the entities to create a new combined health care system led by St. Peter's Health Partners.
SPHP is a member of Catholic Health East (CHE), the parent corporation of St. Peter's Health Care Services, and will abide by the Ethical and Religious Directives for Catholic Health Care Services. However, the new company, St. Peter's Health Partners, is not a Catholic entity. Organizations that are currently part of St. Peter's Health Care Services and Seton Health will retain their Catholic identities. Organizations that are currently affiliated with Northeast Health will remain secular. The merger will better allow the organizations to combine their complementary strengths and better meet the sweeping challenges of federal health care reform.
Today's announcement that the merger transaction has been completed follows more than four years of efforts between the merging organizations. The three organizations first announced a 3 Memorandum of Understanding (MOU) to merge on February 25, 2009, following more than a year of informal discussions by senior officials of the institutions. Since that announcement the organizations have undergone an extensive due diligence process and a nearly year-long review by the Federal Trade Commission (FTC). A preliminary design of the new health care system was released in June 2010 when officials of the three organizations also signed a formal affiliation agreement.
Planning and Integration Process
Clearance for the merger by the Federal Trade Commission in April 2011 allowed the three organizations to begin the final planning and integration process to bring the Affiliation Agreement and a conceptual design of the new health system to an operational level.
Despite having signed the binding Affiliation Agreement in mid-2010, regulatory barriers still prevented the organizations from sharing with each other such sensitive information as pricing, salaries, benefits, market share, and other key operational data necessary to complete the merger.
In April 2011, the pace of Planning and Integration activities increased. Deloitte Consulting, the firm which helped leadership formulate the design for the new system, was engaged to assist with the activities necessary to move from the conceptual system design to the first day of operation and beyond.
Since May, work toward the final merger has primarily focused in four areas – reorganization of the governance (Board) structures; preparing the legal and financial documents necessary to complete the merger transaction; appointment of a new Senior Leadership Team; and ongoing planning and integration activities to determine the other most important steps to be taken to bring essential operations of the three organizations together.
In early August, 15 individuals were named part of the senior leadership team for the new health system. Further work is underway to develop a process for determining organizational structures throughout the new system including the appointment of additional leadership and management staff.
Also in early August, approximately 30 members of senior leadership of Northeast Health, St. Peter's Health Care Services and Seton Health were named to nine different workgroups to begin the formal integration process.
These work groups included: Human Resources; Information Technology; Finance, Business Intelligence & Audit; Revenue Cycle & Reimbursement; Supply Chain; Clinical Operations; Clinical Programs; Mission Services; and Communications. The workgroups had two primary functions. First, the groups prioritized work that needed to be done for the inaugural day of the new system on October 1. Second, the groups began the work to study, recommend and prioritize functions and services that might be combined and what changes must be made for the current systems to be integrated over the next few years. Work plans are being developed to complete the highest priority activities.
Among the highest priorities are plans to:
simplify access for, and transfer of, patients throughout the system;
"harmonize" employee compensation and benefits, and integrate employee policies and recruitment across all of the system's existing organizations;
integrate electronic systems, and other programs and processes for purchasing equipment and supplies;
integrate financial policies and systems for payroll, accounting, budgeting and reimbursement, including the development of a system-wide centralized billing office; and,
integrate system-wide information management systems.
Some Changes Already Occurring
Some integration has already taken place within the system. All home care within the new company is being organized under Eddy Visiting Nurses Association (Eddy VNA). St. Peter's Hospital Home Care discontinued taking new patients September 30, 2011, and will completely cease operations by the end of November 2011. Seton Health's home care agency closed in August. Most patients and employees of the two closed agencies were transitioned to Eddy VNA.
In addition, Inpatient Physical Medicine and Rehabilitation beds located at St. Peter's Hospital will be transferred to Sunnyview Rehabilitation Hospital in Schenectady.
A Culture and Mission Workgroup has also been planning for the cultural integration of our new organization – St. Peter's Health Partners. The workgroup has completed a system-wide survey of the culture within the existing organizations.
A Certificate of Need has been filed with the New York State Department of Health to expand cardiac care capabilities at Samaritan Hospital in Troy, allowing the facility to perform angioplasty (opening of heart arteries with a balloon or stent). The new capabilities could begin as early as January 2012. The Samaritan cardiac facility will be integrated with St. Peter's Cardiac and Vascular services.
Concurrent with the merger, on October 1, Samaritan Hospital closed its maternity services and Burdett Care Center opened. Burdett Care Center, located on the second floor of Samaritan Hospital, is a separately licensed hospital providing birthing and sterilization procedures (tubal ligations and vasectomies). Burdett Care Center was created to honor Northeast Health's commitment to ensure reproductive services continue to be available in Rensselaer County.
The transition to Burdett Care went very smoothly and there was no disruption in patient care. In mid-October, the Seton Health Childbirth Center will also close and transition labor and delivery services to the Burdett Care Center.
Implementation of the New System Name
In July of this year, following an extensive system identity process, officials announced that the new system would be named St. Peter's Health Partners. Now that the merger transaction has occurred, work on a detailed Brand Implementation Plan has begun. Earlier today, banners were placed on the campuses of the four acute care hospitals in the system. The large banners read, "We Are St. Peter's Health Partners."
An actual "roll-out" of the new brand will occur in 2012. For most consumers, there will be little immediate change in how programs and services provided by the merging organizations are identified. Certain parts of the new organization, particularly those in the organization's corporate, business and financial departments, may begin using the new name and graphic system later this year.
Full implementation will incorporate the new name on signage, advertising, the corporate website, stationery, employees' badges, facility signs, vehicles, publications, bills, forms, checks, etc. 5 – everywhere that Northeast Health, St. Peter's Health Care Services and Seton Health are being used. Like the system design, full implementation of the new brand will take two to three years.
A new web portal has been created for St. Peter's Health Partners. The web address is www.sphp.com. It features information and news about the new organization, as well as links to the existing websites of St. Peter's Health Care Services, Northeast Health and Seton Health. It also has a link to employment opportunities at all organizations within St. Peter's Health Partners.
Impact on Operation of Facilities and Staff
In order to accomplish transformational change, there will be an impact on jobs. Many of the changes require Certificate of Need approval or other regulatory approval. Some involve significant construction and/or renovation. Most changes will likely occur over a three-year period following the merger.
In a joint statement, the CEO and President of SPHP said, "Health care reform will bring dramatic changes to health care institutions throughout this country. Change is coming. We can either make changes at the local level with a thoughtful, strategic, system-based approach, or we can have change imposed upon us. Northeast, St. Peter's, and Seton are merging to enact health care reform at the local level – to improve when, where, and how care is provided."
"While the primary reason for this affiliation is not to reduce jobs, it is likely that at the end of the integration process there will be fewer positions. Any reduction, however, will be significantly less than if we did not merge and had to face the coming changes as individual institutions. Our goal is to retain skilled individuals – perhaps some performing different jobs, some in different locations – in a more stable organization and work environment. Although services and programs may move, patients still need to be cared for regardless of physical location."
"In the event that there are job changes or reductions, employees will be treated fairly and compassionately. Reductions in our more than 11,700 employees will be mitigated by annual attrition rates of 10 to 12 percent. These institutions have a tradition of valuing staff and minimizing the impact to staff as changes occur. This has been the case in changes that have already occurred as a result of this merger. Our goal is to continue that tradition as we move through the integration process."
The proposed affiliation is not expected to disrupt physician practices at any hospital operated by St. Peter's, Northeast or Seton. Medical staff governance will continue to respect the unique practice circumstances of each participating hospital. It is believed a combined organization will help recruit new physicians and specialists to the Capital Region, a true community need.