National Drug Take Back Day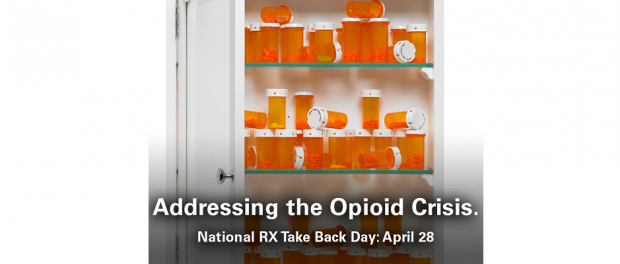 Millions of Americans abuse prescription drugs and thousands die from them.
On Saturday, April 28, you can help prevent drug addiction and overdose deaths by taking part in National Drug Take Back Day. Organized by the Drug Enforcement Agency (DEA), the day provides an opportunity for communities to dispose of their unneeded prescriptions and reduce the chance that these drugs might fall into the wrong hands. Many misusers of drugs have indicated they used a family or friend's medicine cabinet to find prescriptions. Now is your chance to reduce opioid harm.
There will be collection sites across the Capital Region where you can turn in your unused medications, no questions asked. The simple act can make a big difference in the opioid epidemic, something which St. Peter's Health Partners is committed to addressing.
In recent weeks, St. Peter's Health Partners helped form a new coalition of leaders in local media, health care, law enforcement, education, and business. Called Prescription for Progress, the consortium was created to raise awareness of the impact of the opioid crisis in the Capital Region and take positive steps toward implementing solutions locally.
If you or someone you know is struggling with opioid addiction, we can help. St. Peter's Health Partners offers four new outpatient detox sites. To get help now, call 1-877-525-2CARE (2227), or head to sphp.com/opioids.
To find a list of collection sites for National Drug Take Back Day, click here.