St. Peter's Health Partners Nursing Education Experts Publish Article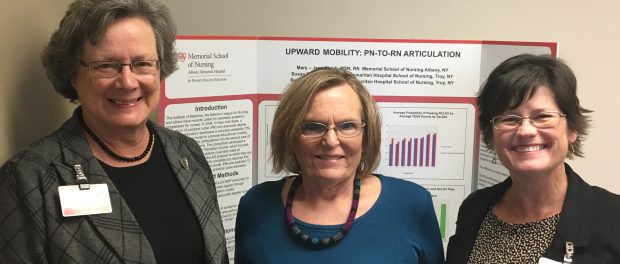 Congratulations to three nursing education experts at St. Peter's Health Partners who recently published an article in the Journal of Teaching and Learning in Nursing — the official journal of the Organization for Associate Degree Nursing.
Susan Birkhead, DNS, MPH, RN, CNE, director of the Samaritan Hospital School of Nursing; Mary-Jane Araldi, MSN, RN, director of the Memorial College of Nursing; and Roni Cummings, MSN, RN, nursing faculty member, co-authored the article titled "A Model of Practical Nurse to Registered Nurse Educational Articulation: A Successful Approach to Advancing the Nursing Workforce."
The article describes the success of the NYS PN-to-RN Articulation Model implemented by the two nursing schools in 2005. The model offers advanced placement (AP) to qualified LPNs into the second year of the associate degree curriculum. The study compared the cumulative outcomes (NCLEX pass rate, course grades and standardized test scores) of matched pairs of AP PNs and generic students and found no statistically significant difference in outcomes on any measure.
A successful approach to seamless academic progression for PNs, the Articulation Model attests to the vision and work of the consortium of educators who developed the model, and to the tenacity of the PNs who chose this route to become registered nurses.
See the full article here.