Samaritan and St. Mary's Hospitals Celebrate Five Years of "Walk With a Doc"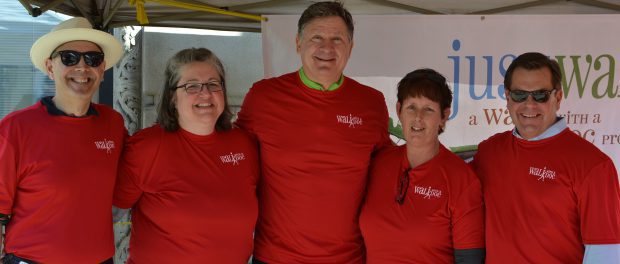 Five years ago, "Walk with a Doc" debuted in Troy. Every month, Samaritan and St. Mary's hospitals invite the public to join cardiologists on a walk downtown along the riverfront. These mile-long walks help get people moving, provide an opportunity to meet new friends, and offer the chance to learn about heart health and ask medical questions in an informal, relaxed setting.
Troy Mayor Patrick Madden was among the 60 walkers who gathered after their trek on May 14 to celebrate the program's fifth anniversary and to thank the pair of cardiologists who have been doing the walk every month for the past five years: Robert Benton, M.D., and R. Scott Morris, M.D., of Capital Cardiology Associates.
Samaritan Hospital volunteer Pat Kenyon led her fellow longtime Walk with a Doc participants in presenting plaques and personalized gifts to Dr. Benton and Dr. Morris. The physicians thanked the walkers for their enthusiasm and effort.
"I wanted to thank the volunteers who make this program possible, and I want to thank you, the walkers, who are taking charge of your lives and who are making a difference for yourselves," Dr. Benton said. "For physicians like Dr. Morris and myself, there is nothing more heartening than to see someone make a real effort to improve their health."
Norman Dascher Jr., chief executive officer of Samaritan and St. Mary's hospitals, and vice president of Acute Care Troy for St. Peter's Health Partners, walked with the group in the morning. At the celebration afterwards, he thanked volunteers and applauded the positive impact that Dr. Benton, Dr. Morris, and their fellow cardiologists have had on the Troy area.
"You have no idea the number of lives they have saved," Dascher said of Dr. Benton and Dr. Morris. "So beyond being a lot of fun, and being superlative physicians, these people are special in that they really, really have made a difference in our community. We can never thank them enough."
Kenyon and the walkers also honored and presented gifts to two Samaritan Hospital nurses, Catherine Lesson, M.S., RN, PMHNP-BC, and Kathy Anthony, RN, who have been instrumental in planning and facilitating Walk with a Doc in Troy. Additionally, Kenyon offered a plaque to Shelly Cestaro, information associate in the cardiac catheterization lab at Samaritan Hospital, for her role in planning the monthly walks.
At the celebration, Lesson read from a letter from Rachael Habash, executive director of the national Walk with a Doc organization, the first chapter of which started in 2005 in Ohio. Habash commended the Walk with a Doc Troy team for being one of the few veteran chapters to celebrate five years with the program.
"It is because of YOU that we are making strides to reverse the consequences of a sedentary lifestyle and are improving the health and well-being of our world," Habash wrote in the letter. "On behalf of all of us at Walk with a Doc, we cannot thank you enough for your continued commitment!"
Click here for more information about the Walk with a Doc program in Troy, or click here to visit the program's Facebook page.