SPHP Marks the End of the COVID-19 Public Health Emergency by Recognizing the System's Monoclonal Antibody Clinic
Thursday, May 11, three years and 100 days after the federal government declared the coronavirus a public health emergency, the emergency declaration has officially come to an end.
In recognition of this momentous event, leaders from St. Peter's Health Partners (SPHP), including president and CEO, Dr. Steven Hanks, formally recognized the team from SPHP's Monoclonal Antibody Clinic at the Albany Memorial Campus of Samaritan Hospital. The recognition included the dedication of a plaque honoring clinic leader Dr. Melissa Fiorini and her staff for the critical role they played in the delivery of life-saving treatment to patients.
"Dr. Fiorini and her clinic colleagues represent the best of health care," remarked Dr. Hanks. "Their unrelenting dedication to helping those in need, particularly during a challenging time wrought with uncertainty and pandemic-related fears, is nothing short of inspiring. During a time in our world's history, they did not stand still, but instead made a difference to many. Thanks to their efforts, hundreds of lives were saved, and countless hospitalizations prevented. We are deeply grateful for all they have done for our communities and for our organization."
During the month of December 2020, more than 77,000 Americans lost their lives to COVID-19. It was the deadliest and most infectious month the nation had experienced since the start of the pandemic that March.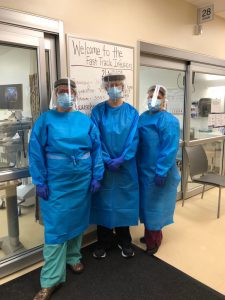 The surge that winter was fueled by the highly transmissive alpha variant. Vaccines and effective treatments were not yet widely available. The only medications that were showing promise in preventing people with early COVID-19 from progressing to severe disease were monoclonal antibodies. At the time, monoclonal antibodies were the only drugs to receive emergency use authorization from the US Food and Drug Administration to treat COVID-19.
SPHP recognized early on the potential benefits these treatments could have and on December 3, 2020, opened its Monoclonal Antibody Clinic on the Albany Memorial Campus of Samaritan Hospital. Under the direction of Dr. Fiorini, a critical care and emergency medicine physician, the clinic began administering the Capital Region's first doses of the treatment to ill and at-risk patients.
Dr. Fiorini worked around the clock – 24 hours a day, seven days a week – personally overseeing the coordination of patient care including scheduling patient appointments; developing innovative treatment protocols; following up with patients, post-infusion; working with the health care system's IT team to create a more efficient patient scheduling system; and collaborating with the broader health care community to ensure the most critically ill and at-risk patients in our community had access to the life-saving treatment.
Under her leadership, SPHP was able to expand treatment capabilities throughout its three emergency departments, as well as its long-term facilities and in-home care services.
Combined, these efforts resulted in nearly 9,000 patients treated and hundreds of deaths prevented in the Capital Region.
"Dr. Fiorini's unwavering commitment to patient care undoubtedly mitigated the impact of the pandemic on our communities," said Kim Baker, senior vice president of hospital operations for SPHP. "We are incredibly proud of her efforts and those of her entire team, including nurses, pharmacy technicians and leaders, emergency department physicians, home infusion nurses, and our many other partners throughout our acute care and continuing care networks. Their work is a reflection of our Mission at SPHP – to serve as a compassionate transforming healing presence in our communities."
In addition to the recognition, Dr. Fiorini was also recently named a "Woman of Distinction" by New York State Assemblyman Phil Steck. The honor recognizes women of the 110th Assembly District who have gone above and beyond to serve the local community and have positively impacted the lives of Capital Region residents.
"It is an honor to be recognized by both Assemblyman Steck and my colleagues here at St. Peter's," said Dr. Fiorini. "The successes of this clinic were a true team effort, and I will never be able to adequately thank those who worked alongside me during this unprecedented fight. To have reached the milestones of closing the clinic because of a diminished community need, and the end of the public health emergency, is truly a joyous one."
About St. Peter's Health Partners
With 11,000 employees in more than 185 locations, St. Peter's Health Partners is one of the Capital Region's largest and most comprehensive not-for-profit integrated health care networks, and provides high-quality, compassionate, and sophisticated care to thousands of people every day. St. Peter's Health Partners is a member of Trinity Health, one of the nation's largest Catholic health systems. For more information, please visit www.SPHP.com.
About Trinity Health
Trinity Health is one of the largest not-for-profit, Catholic health care systems in the nation. It is a family of 115,000 colleagues and nearly 26,000 physicians and clinicians caring for diverse communities across 25 states. Nationally recognized for care and experience, the Trinity Health system includes 88 hospitals, 131 continuing care locations, the second largest PACE program in the country, 125 urgent care locations and many other health and well-being services. Based in Livonia, Michigan, its annual operating revenue is $20.2 billion with $1.2 billion returned to its communities in the form of charity care and other community benefit programs.