Ten SPHP Nurses Honored for Excellence at 2023 "Salute to Nurses"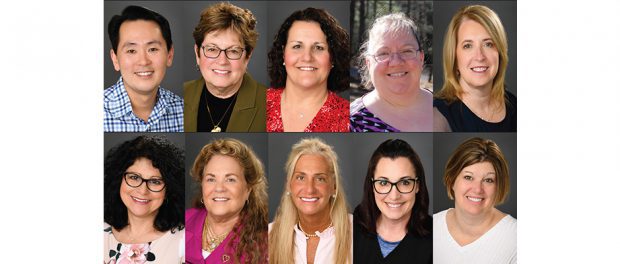 Ten St. Peter's Health Partners (SPHP) nurses have been honored for nursing excellence at the ninth annual Times Union Salute to Nurses.
Presented by SPHP, the Times Union Salute to Nurses honors the profession of nursing and the outstanding men and women who represent the field throughout the Capital Region. This year's celebration, held virtually on May 5, recognized the obstacles these nurses faced during the lengthy COVID-19 pandemic, as well as the unprecedented staffing challenges that have arisen as a result.
Twenty-five local nurses – 10 winners and 15 finalists – were honored this year, all of whom were nominated by family, friends, coworkers, and others whose lives they have impacted with their work.
Two SPHP nurses were named a "2023 Nurse of the Year":
Chi Lee, LPN, Community Hospice
Mary Beth Rutkowski, MSN, Eddy SeniorCare/PACE
Additionally, eight SPHP nurses were honored as "Nurse of the Year" finalists:
Rebecca Bloom, RN, Eddy Visiting Nurse & Rehab Association
Tracy Crandall, RN, BSN, ACM, Eddy Visiting Nurse & Rehab Association
Tracey Considine, RN, Pulmonary Hypertension, Albany Associates in Cardiology
Laurie Harris, RN, CDCES, St. Peter's Diabetes & Endocrine Care
Brigitte Higgins-Havlicek, RN II, Neurology Unit, Sunnyview Rehabilitation Hospital
Donna Kirby, RN III, Medical/Surgical Unit, St. Peter's Hospital
Margaret Rodriguez, RN, Intake Liaison, Community Hospice
Diane Salisbury, RN, Pulmonary & Critical Care Services (Troy)
"As I have often said throughout my career, it is simply impossible to overstate the importance of nurses to the delivery and quality of health care, to patient safety, and to positive patient outcomes," said Steven Hanks, M.D., president and CEO of SPHP and St. Joseph's Health. "Thank you for who you are. For what you do. For how you do it. For giving so much. And for the impact of all of your efforts, on patient outcomes, and on our community as a whole."
Times Union Salute to Nurses honors nurses for their remarkably selfless contributions, impact on quality of life for their patients, and their passion for the nursing profession. To view this year's virtual awards ceremony, click here.