SPHP Screens Two Dozen Firefighters During Free Cancer Screening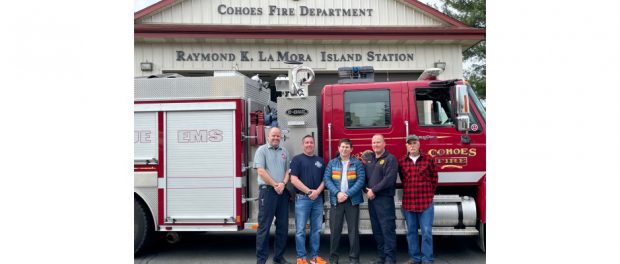 Fighting fires is unquestionably a dangerous job. But it's not just the flames that pose a serious threat to the health of the men and women battling them; the chemicals they encounter and inhale can be just as deadly. Many of those chemicals are known or suspected to cause cancer, which the CDC says is a leading cause of death among firefighters.
St. Peter's Health Partners (SPHP), in conjunction with the Cohoes Fire Department, has launched a pilot program to raise awareness about this risk by providing cancer screenings and education to firefighters. The program, spearheaded by Anne Lawton, BSN, RN, NCTTP, community outreach nurse at SPHP's Cancer Care Center; Jonah Marshall, M.D., Capital Region Urology and director of minimally invasive surgery at SPHP; and Robb Wattsman, president of the Uniform Firefighters of Cohoes IAFF Local 2562, held its first screening event on April 23 at the Raymond K. Lamora Island Fire Station in Cohoes.
Lawton, Dr. Marshall, and Linda Abriel, NP, also of Capital Region Urology, provided 25 firefighters with kidney ultrasounds; rectal, testicular, and thyroid exams; blood pressure checks; and measured their BMI (body mass index). Providers used the screening to look for signs of cancer, heart disease, or other abnormalities that could indicate a health problem in need of immediate treatment, or one that might need to be monitored in the future.
"We need to get the word out," said Lawton. "These firefighters have stepped up to the plate for us and have helped us, but every time they go to a fire, they're breathing in all types of carcinogens, and now we need to help them."
In addition to the risk of inhaling smoke, which can lead to lung cancer, the exposure to burning plastics and the byproducts of those plastics is particularly toxic.
"Most of the products in our homes today are petroleum based," explained Captain Jason Geary, Green Island Fire Department. "They're highly toxic. Even with our protective equipment, it still gets absorbed into our skin, through our pores."
Dr. Marshall says he became aware of the increased risk to firefighters after recently treating three of them for various types of cancer.
"It's surprising that the number of urologic malignancies is actually extremely high among firefighters, including renal, bladder, testicular, prostate cancers," explained Dr. Marshall. "These are young, healthy men in their 20s, 30s and 40s. I think it's really important. These are men and women who are out putting their lives on the line for us and it's crucial that we look out for them."
Out of the 25 men screened, two were found to have microscopic hematuria (blood in the urine) and three others had abnormal thyroid exams. Seven had elevated blood pressure. Lawton says she will work with the men to ensure all receive follow up care.
SPHP would like to thank Mobile Imaging, LTD., for providing their mobile ultrasound unit for the screening, as well as the Cohoes and Green Island Fire Departments for their cooperation and help in launching this program.