St. Peter's Health Partners Opens Baby Café in Albany's South End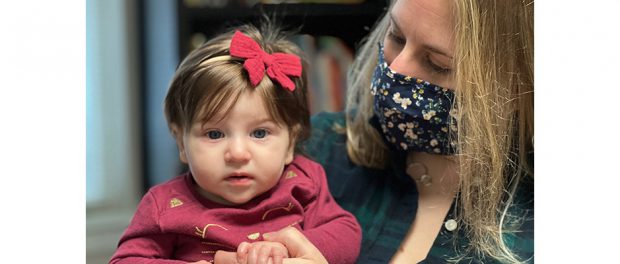 A grand opening celebration and open house was held on Thursday, Jan. 5, for the newest Baby Café in the Capital Region at the Albany College of Pharmacy and Health Sciences' The Collaboratory, located in the Albany Housing Authority building at 200 South Pearl Street in Albany.
Open on Thursdays from 11 a.m. to 1 p.m., the Baby Café is a space where pregnant and nursing parents can share tips and techniques, and socialize with other parents. Free, one-on-one feeding assistance is also available from certified lactation specialists and peer counselors.
"We are thrilled to launch this newest Baby Café, which will offer community support for breastfeeding/chestfeeding parents in Albany County, and enable them to feed their children longer," said Erin Sinisgalli, director of Community Health Programs for St. Peter's Health Partners. "Long-term studies of breastfeeding/chestfeeding show it contributes to a lifetime of good health for babies, especially when it comes to obesity prevention. These babies learn how to regulate their food intake and develop healthy eating patterns as they grow."
The Baby Café is one of five Baby Cafés supported by SPHP in the Capital Region. The other sites are located at the Mechanicville Public Library in Saratoga County; the Mont Pleasant Branch Library and Phyllis Bornt Branch Library and Literacy Center in Schenectady; and at Samaritan Hospital – St. Mary's Campus in Troy. There is also a sixth, virtual-only Baby Café based out of St. Peter's Hospital.
The establishment of the Baby Café network is part of an effort funded by a New York State Department of Health "Creating Breastfeeding Friendly Communities" grant. The aim of the project is to fund a coordinated community network to build and expand community-based feeding partnerships, as well as to reduce the racial and ethnic community disparities in the prevalence of feeding.
"Due to the pandemic, the Baby Cafés were running virtually in 2020, 2021, and most of 2022," said Chloe Blaise, MPH, a breastfeeding peer counselor for St. Peter's Health Partners and project coordinator for the grant. "With the ability to return to safer in-person gatherings, the Albany Baby Café is reopening in this larger, recently renovated space that will allow us to reach parents in this growing part of Albany, which is a target area for the grant."
Pregnant women, breastfeeding moms, partners, and siblings are welcome at all Baby Cafés.
The effort is the latest investment in Albany's South End from SPHP's Community Health Programs, which was honored to support The South End Grocery during its recent Grand Opening Campaign. It is all part of St. Peter's Mission to provide the right care, in the right place, at the right time, and we look forward to future opportunities to grow community wellness through continued support, screenings and education.
St. Peter's would like to thank everyone who stopped by the new Baby Café to celebrate the grand opening today, including parents, community members, and leaders from the New York State Department of Health, the Albany County Department of Health, and the Schenectady County Department of Health.