St. Peter's Health Partners President and CEO, Dr. James Reed, Announces Retirement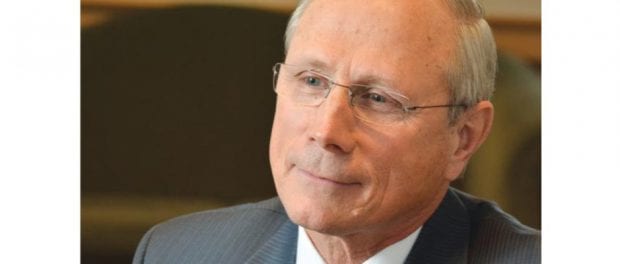 Following a year of planning for the transition, James K. Reed, M.D., president and chief executive officer of St. Peter's Health Partners (SPHP) and St. Joseph's Health in Syracuse, will be retiring from his position at the end of the year, December 31, 2022.
Reed has spent more than a decade in executive leadership at St. Peter's, part of a storied, 30-year career in health care. In October 2012, he became the first individual to hold the position of President and Chief Executive Officer for SPHP. Since July 2022, he has also served in the same role at St. Joseph's Health as part of regionalization efforts by the two Trinity Health ministries.
Upon Reed's retirement, Steven Hanks, M.D., who currently serves as the chief operating officer for SPHP and St. Joseph's Health, will be assuming the role of system president and CEO for the region, effective January 1, 2023.
"Leading St. Peter's Health Partners for the past decade, and more recently St. Joseph's Health in a regional capacity, has been my honor, and I am grateful to have had the opportunity," Reed said. "I am thankful to have served with an incredible team of nearly 15,000 colleagues in Albany and Syracuse, working together to provide the exceptional, compassionate care our communities deserve. I remain in awe of the determination and resilience this tremendous team of people has displayed, never wavering in their commitment to keeping each other, our patients, residents, and loved ones safe and cared for."
"As I look back, what gives me the greatest pride is what our organization has achieved in the face of great adversity and constant change. The team of people we have assembled; the remarkable facilities, programs and services; the dedication to compassionate care – all of this in service of providing the right care, in the right place, at the right time," said Reed. "I am grateful to have had this opportunity and so grateful to our patients, clients, residents, and their families for trusting us with their most precious resource – their health and well-being."
During his time at St. Peter's, Reed succeeded in strengthening the institution's position across numerous benchmarks: sustained financial stability; national rankings for quality; major capital projects as part of a comprehensive master facilities plan in Albany and Troy; the establishment and growth of St. Peter's Health Partners Medical Associates; and, finally, the recent restructuring of the institution's board, leadership and services as part of the regional consolidation of the two health care systems in Albany and Syracuse.
With optimism and a wry sense of humor, Reed tackled challenges both large and small throughout his tenure. Even during the constantly evolving COVID pandemic and the unprecedented strains it was placing on the nation's health care system, Reed looked for the positive. "I have great confidence in the power of compassion. I see what it can do, every day, in the halls of our various facilities and throughout our system of care," said Reed. "The exceptional care and gentle, human touch extended by our health care workers and other colleagues has the power to heal. It has the power to provide hope of better days ahead."
"Jim is fiercely dedicated to the mission of care and ensuring that everyone in the organization provides the highest quality care to the residents of the Capital Region," said Robert McCormick, chair of the St. Peter's Health Partners Board of Directors. "An extraordinary leader, Jim's extensive experience and remarkable vision was crucial to St. Peter's growth and successes over the past decade. Jim's unique outlook as both an institutional leader and a physician provided him with crucial insight into the patient care, science, technology, and economic aspects of health care. St. Peter's is stronger and poised for future successes thanks to his adept leadership."
"Jim has been integral to the success of St. Peter's, St. Joseph's Health and Trinity Health in the region," said Benjamin R. Carter, EVP and Chief Operating Officer of Trinity Health. "Jim is a bold and courageous leader. His vision was key to St. Peter's and St. Joseph's coming together organizationally to build on the strengths of both ministries to provide the best possible care to residents of the Capital Region and Central New York. We will be forever grateful for his contributions to improving the health of these communities, and for his dedication to the mission and values of St. Peter's, St. Joseph's and Trinity Health."
Here are a few highlights of Dr. Reed's accomplishments from his career, leading teams that implemented numerous innovative programs and quality initiatives:
The historic October 2011 merger of St. Peter's Health Care Services, Northeast Health and Seton Health into St. Peter's Health Partners. This proactive step served as a way to ensure a vital and strong health care system built to last for the 21st century and to stay ahead of the curve of the ever-changing health care landscape.
The completion of the six-year, $105 million Troy Master Facilities Plan (MFP) for SPHP's Troy-based community hospitals – Samaritan Hospital and St. Mary's Hospital. This three-phased strategic development project represented one of the largest private-sector investments in Troy and Rensselaer County history. The plan, completed in 2018, included: the construction of the new five-story, inpatient Heinrich Medicus Pavilion, named after the philanthropist who pledged $10 million to the project; an expanded emergency department; expanded intensive care and progressive care beds; enhancements to cancer services at both campuses; and a 570-space parking garage.
The creation in January 2013 of St. Peter's Health Partners Medical Associates, a non-profit, physician-governed, multi-specialty group. Over the course of a decade, the group has grown from 136 providers in 40 locations to more than 850 providers in 130 locations.
The creation of the Innovative Health Alliance of New York (IHANY), the Capital Region's first innovative clinically integrated network (CIN). IHANY is a collaboration that SPHP and Ellis Medicine began in 2014 that has grown to include numerous physicians, health systems and health care providers in New York's Capital Region, aimed at improving the health of the communities they serve.
SPHP grew from being the first hospital in the Capital Region to perform robotic surgery, to surpassing 20,000 robotic surgeries this summer, placing it in the upper echelon of systems utilizing this life-changing technology. Only 26 hospitals in the world have achieved this milestone.
The Eddy opened New York state's first Green House® modeled skilled nursing facilities in Cohoes, which feature small ranch-style houses over the traditional institutional facilities, in 2009. In this model, residents, called "elders," are respected and encouraged to participate in decisions about their own health and well-being. The Eddy is a comprehensive continuum of health care, supportive housing, and community services that reaches 22 counties and serves more than 40,000 people yearly.
Opened the $8 million St. Peter's Medical Arts in Clifton Park in 2020, creating the first facility in the Capital Region offering state-of-the-art technology for heart care, vascular care, advanced cardiac imaging and primary care all under one roof. The 18,000 square-foot space offers comprehensive cardiology services with both a Cardiac Walk-in Clinic and Vascular Walk-in Clinic.
Fostered an atmosphere of nationally-recognized quality care:
Peter's Hospital and Sunnyview Rehabilitation Hospital have each been recognized as a Best Hospital by U.S. News & World Report. St. Peter's Hospital was named #1 in the Capital Region nine years in a row (2013-2022); Sunnyview Rehabilitation Hospital was recognized as a nationally ranked rehab hospital two years in a row (2021-2022).
S. News & World Report recognized St. Peter's Hospital as "Best Hospital for Maternity Care (Uncomplicated Pregnancy)." St. Peter's is the only hospital in the Capital Region to receive the designation. (2021-2022)
Peter's Hospital was twice recognized as a Magnet®-designated organization by the American Nurses Credentialing Center® (ANCC) Magnet® Recognition Program (2015-2019 and 2021-2024). The most recent recognition represented the fourth consecutive time it has been granted to St. Peter's Hospital; St. Peter's is one of less than one percent of hospitals in the United States to achieve four consecutive Magnet designations. It is nursing's highest honor and is considered the "gold standard" for nursing care in hospitals.
Reed was inducted into the Tech Valley Business Hall of Fame in 2017. The Business Hall of Fame recognizes local champions of free enterprise for their success and dedication toward making the Tech Valley a better place to live and work. It is one of the area's most prestigious business awards. He had previously been named Executive of the Year by The Business Review in 2008.
A Background in Business and in Medicine
Dr. Reed received his undergraduate degree in economics from Amherst College, then attended the Wharton School of the University of Pennsylvania where he received his MBA. He joined the International Paper Company, where he held a variety of finance positions and became the company's Director of Corporate Finance. He moved to the Union Pacific Corporation as Manager of Strategic Planning and became Director of Acquisitions and Divestitures.
He then attended Cornell University Medical College, where he received numerous clinical prizes and became president of the school's academic honor society. He completed residency training in Family Practice, receiving the Mead Johnson Award as one of the nation's twenty best residents, and spent nine years as a partner in a private group family practice in Albany. In 1999, he was named Chief Medical Officer of Northeast Health. In 2001, he added the responsibilities of Chief Operating Officer, and in 2005, he became President and CEO.
Dr. Reed is a member of the Board of Directors of Pioneer Bancorp, former Chairman of the Board of MLMIC Insurance Company (a Berkshire Hathaway subsidiary), and a former board member of HealthNow New York, the Albany-Colonie Regional Chamber, the Fort Orange Club, and the Albany Symphony Orchestra. He also served as a member of the New York State Hospital Review and Planning Council and was a governor's appointee to the Regional Advisory Committee of the Commission on Health Care Facilities in the 21st Century (the "Berger Closing Commission").
Dr. Reed lives in Latham, NY, with his wife, Risa. They have three adult children, Jason, Lindsay and Jonathan, and five grandchildren. Dr. Reed and his wife will continue to reside in the Capital Region after his retirement.
About St. Peter's Health Partners
With 11,000 employees in more than 170 locations, St. Peter's Health Partners is one of the Capital Region's largest and most comprehensive not-for-profit integrated health care networks, and provides high-quality, compassionate, and sophisticated care to thousands of people every day. St. Peter's Health Partners is a member of Trinity Health, one of the nation's largest Catholic health systems. For more information, please visit www.SPHP.com.
About St. Joseph's Health
St. Joseph's Health is non-profit health care system based in Syracuse, NY. St. Joseph's has been an innovative leader in health care since our founding in 1869 as the first hospital open to the public in the city of Syracuse. Offering primary, specialty and home care, a Magnet-recognized hospital, and collaboration with community partners, St. Joseph's Health advances the well-being of the communities we serve through an expanding range of services to ensure our patients achieve optimum long-term health. St. Joseph's Health is affiliated with St. Joseph's Physicians, and is a member of Trinity Health. For more information, visit www.sjhsyr.org/legacy.
About Trinity Health
Trinity Health is one of the largest not-for-profit, Catholic health care systems in the nation. It is a family of 115,000 colleagues and nearly 26,000 physicians and clinicians caring for diverse communities across 25 states. Nationally recognized for care and experience, the Trinity Health system includes 88 hospitals, 131 continuing care locations, the second largest PACE program in the country, 125 urgent care locations and many other health and well-being services. Based in Livonia, Michigan, its annual operating revenue is $20.2 billion with $1.2 billion returned to its communities in the form of charity care and other community benefit programs.