St. Peter's Hospital First in Upstate New York to Perform New, Minimally Invasive Treatment for Blood Clots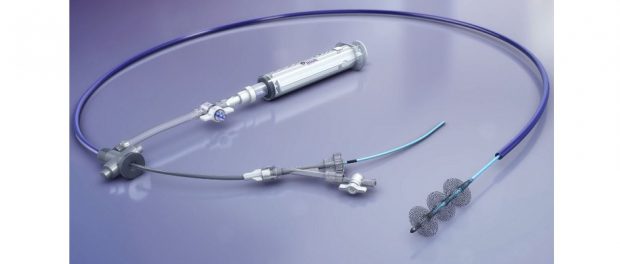 St. Peter's Hospital, part of St. Peter's Health Partners, has performed the first non-surgical intervention for deep vein thrombosis (DVT) in upstate New York using Inari Medical's ClotTriever and FlowTriever clot removal systems.
These new devices allow vascular surgeons to remove large blood clots through a small opening, greatly reducing the risk of bleeding and shortening a patient's hospital stay.
"These new systems represent a significant leap in treatment for these potentially life-threatening conditions," said Yaron Sternbach, M.D., chief of vascular services at St. Peter's Hospital, who performed the successful procedures. "They allow us to intervene quickly, eliminate the need for thrombolytic drugs, and avoid critical care, all to the great benefit of the patient."
DVT affects hundreds of thousands of Americans every year. It occurs when a blood clot forms in one or more of the deep veins in the body, typically in the legs or groin. The condition can be very serious as these blood clots can break loose, travel through the bloodstream, and lodge in one or more pulmonary arteries in the lungs. This pulmonary embolism can block blood flow in the lungs and has the potential to compromise both breathing and heart function.
Previously, the first line of defense was to administer an anticoagulant, or blood thinner, to decrease the body's ability to clot. While this prevents clots from getting larger and developing more clots, it does not dissolve the clot. For more serious DVTs or pulmonary embolisms, drugs called thrombolytics, or "clot-busters," are often administered. However, these "clot busters" can cause serious bleeding, and for that reason, physicians typically reserve them for severe cases.
"Blood clots and pulmonary embolisms often require life-long monitoring. They can be debilitating, and have the potential to greatly limit a person's lifestyle," said Steven Hanks, M.D., MMM, FACP, FFSMB, chief clinical officer at St. Peter's Health Partners. "This latest technology gives our team of experienced vascular surgeons a tremendous advantage in delivering sophisticated, high-quality, and compassionate care to our patients, by allowing patients to return to their normal lives at a much quicker rate."
The FlowTriever System, approved in 2018 by the U.S. Food and Drug Administration (FDA), is the first and only thrombectomy device cleared by the FDA for the treatment of pulmonary embolisms. The ClotTriever System, approved in 2017 by the FDA, is designed to remove blood clots from large vessels in the peripheral vasculature.
"These new devices give us a mechanical advantage by allowing us to separate the clot from the vein wall and restore blood flow in a single session, and it's all done through a tiny opening in the skin," Dr. Sternbach said.
The procedures are particularly beneficial for patients who are already at risk for bleeding and cannot tolerate thrombolytic drugs, he said. Candidates for these procedures are individuals with symptomatic DVT involving the iliac or common femoral vein.
Dr. Sternbach is a founding partner of St. Peter's Vascular Associates, a practice of St. Peter's Health Partners Medical Associates. He and his longtime partners Kathleen Ozsvath, M.D., and John Taggert, M.D., have more than six decades of combined experience in treating vascular disease. All are board-certified and fellowship-trained vascular surgeons offering minimally invasive and endovascular procedures for the entire scope of vascular disorders including for those with complex vascular disease.
For more information on DVT or pulmonary embolism treatment, or to schedule an appointment with St. Peter's Vascular Associates, visit: https://www.sphpma.com/specialties-locations/vascular-surgery/st-peters-vascular-associates
St. Peter's Health Partners
With 12,000 employees in more than 170 locations, St. Peter's Health Partners is the Capital Region's most comprehensive not-for-profit integrated health care network, which provides high-quality, compassionate, and sophisticated care to thousands of people every day. St. Peter's Health Partners is a member of Trinity Health, one of the nation's largest Catholic health systems. For more information, please visit www.SPHP.com.