U.S. News & World Report Ranks St. Peter's Hospital Among Highest Quality Hospitals in New York State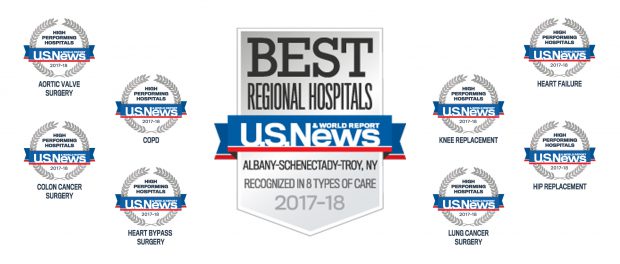 U.S. News & World Report has awarded St. Peter's Hospital the highest ranking in the Capital Region and one of the highest rankings in New York state for excellent quality of care.
In rating 4,658 hospitals across the country on key indicators of patient care, the magazine placed St. Peter's Hospital 12th among nearly 250 hospitals in New York state and the highest in northeastern New York.
St. Peter's Hospital was rated as "high performing" in eight adult specialties, adult procedures, and conditions – heart failure, heart bypass surgery, aortic valve surgery, colon cancer surgery, lung cancer surgery, chronic obstructive pulmonary disease (COPD), hip replacement, and knee replacement.
"Every day, it is our privilege to provide the highest quality and most compassionate care for our patients," said Virginia Golden, chief executive officer of St. Peter's Hospital and Albany Memorial Hospital. "This ranking from U.S. News & World Report is the latest in a series of ratings, awards, and accreditations recognizing the clinical excellence of our physicians, nurses, and staff. Thank you to everyone whose hard work and dedication resulted in this ranking."
The full U.S. News & World Report rankings are located at: www.usnews.com/best-hospitals
St. Peter's Hospital, an affiliate of St. Peter's Health Partners, is the largest Catholic acute care community hospital in northeastern New York state. The hospital, founded in 1869 by the Religious Sisters of Mercy, is a voluntary, not-for-profit community tertiary hospital with 442 beds, more than 900 staff physicians, and nearly 6,000 employees.