Why Capital Region, U.S. Hospitals Are Requiring Staff COVID Vaccination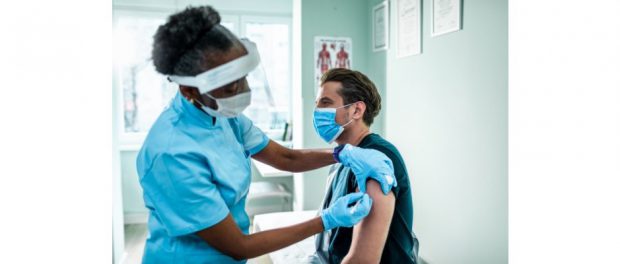 Within the last several weeks, numerous hospitals around the U.S. and all hospitals in the Capital Region have required that their staffs receive the Covid-19 vaccine. St. Peter's Health Partners has joined with hospitals from the Hudson Valley to the North Country and the Mohawk Valley to ensure all health care workers—from those on the front line to volunteers, students and operations staff—are protected from the virus through vaccination.
To that end, the following hospitals have released a consensus statement:
Albany Med Health System

Albany Medical Center Hospital
Columbia Memorial Health
Glens Falls Hospital
Saratoga Hospital

Ellis Medicine
Nathan Littauer Hospital
St. Mary's Hospital – Amsterdam
St. Peter's Health Partners

St. Peter's Hospital
Samaritan Hospital
Samaritan Hospital – Albany Memorial Campus
Samaritan Hospital – St. Mary's Campus
Sunnyview Rehabilitation Hospital
Their position is based on proof that the vaccine is safe and highly effective at preventing Covid-19 and, in rare breakthrough cases, preventing serious illness. Experts believe the vaccine also keeps the virus from spreading. The more people get vaccinated, the stronger the protection for others who are at increased risk of contracting the virus due to underlying health conditions. The vaccine is also widely available. There are few if any barriers to access with scheduled and pop-up clinics occurring daily in many places.
Health care workers treat the most vulnerable members of our communities. Requiring a Covid-19 vaccine demonstrates a commitment to protect the safety and health all patients, visitors, coworkers, and our own families. Health care organizations are also among the largest employers in the Capital Region. The health of our colleagues directly correlates to the health of the entire community.
When St. Peter's Health Partners announced last month it would be mandating vaccination for all employees, SPHP President and CEO James K. Reed, M.D. said in a news release at the time: "Safety is one of our Core Values. We know these vaccines are safe and reduce the chance that members of our community could become seriously ill or end up in one of our hospitals. We have an obligation to those we serve to provide the very best care. This decision represents the next step in our continuing efforts to do all we can to provide healing, compassionate care, while recognizing our vital role in ending this pandemic."
The number of patients hospitalized for Covid-19 declined as more people became vaccinated. But, in late July the rate began to increase, and the overwhelming majority of patients with Covid-19 had not received the vaccine.
"We must continue to lead by example," Dr. Reed said. "I thank all my colleagues for their untiring efforts and urge every member of our workforce—and our neighbors in the community—to get vaccinated. The vaccine will help put the pandemic behind us."
More than half of the U.S. population has been fully vaccinated as of Aug. 9, 2021. Nearly 60 percent of New Yorkers and more than 60 percent of Capital Region residents have completed the vaccine series.
Capital Region hospitals encourage other health care providers to require the vaccine for the health and safety of their communities. They believe those requirements should be made as soon as possible.
Each of these organizations will develop its own set of limited exemptions and deferrals for consideration.
Community members still looking to get vaccinated are encouraged to check New York state's website "Am I Eligible" for an updated list of community sites with vaccine doses and accepting appointments. New York state also has a COVID-19 Vaccination Hotline which eligible New Yorkers can call to schedule a vaccination appointment at 1-833-697-4829. For vaccine FAQs, visit https://www.sphp.com/health-and-wellness/coronavirus-vaccine/.