A Healthier Reuben Dip for St. Patrick's Day!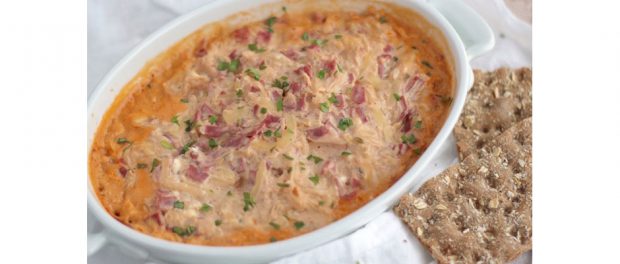 This Reuben dip promises to be a crowd favorite at your St. Patrick's Day celebrations. It has all the flavor of the beloved classic sandwich, just missing some of the fat and calories.
This recipe comes courtesy of Two Healthy Kitchens. Enjoy!
Healthier Reuben Dip (Oven, Microwave or Crock Pot)

Prep Time
7 minutes

Cook Time
4 minutes

Total Time
11 minutes

Ingredients

1/3 cup nonfat plain Greek yogurt
3 tablespoons ketchup (natural or organic, see note)
2 ounces reduced-fat cream cheese, softened
4 teaspoons sweet pickle relish (natural or organic, see note)
1 1/2 teaspoons white vinegar
1/2 teaspoon hot sauce (such as Frank's Red Hot)
1/4 teaspoon garlic powder
1/4 teaspoon onion powder
1/4 teaspoon kosher salt
4 ounces extra-lean deli corned beef, chopped (see note)
4 ounces reduced-fat Swiss cheese, shredded
1/4 cup sauerkraut
for garnish: finely chopped parsley (if desired)
for serving: whole grain crackers, or mini appetizer-sized slices of rye or pumpernickel bread (lightly toasted, if desired)

Instructions

In a medium bowl (or directly in an un-greased serving container, such as an 8×8″ baking pan, a small oval baking dish, a pie pan or a mini slow cooker insert), thoroughly combine Greek yogurt, ketchup, cream cheese, pickle relish, vinegar, hot sauce, garlic powder, onion powder, and salt. Stir in corned beef, Swiss cheese, and sauerkraut.
Cook dip mixture according to your cooking method of choice (see below), until the cheese is melted and the dip is hot throughout.
Garnish with parsley, if desired, and serve with crackers or appetizer breads.

Microwave Directions:

In an ungreased, microwave-safe serving dish, heat on high for about 2 minutes. Stir, and continue heating on high for an additional 2 minutes (or until thoroughly heated and bubbly at the edges). Exact cooking time may vary depending on the wattage and power of your microwave.

Oven Directions:

In an ungreased, oven-safe serving dish, bake dip at 350°F for 15-20 minutes (until thoroughly heated and bubbly at the edges), stirring halfway through cooking time.

Crock Pot Directions:

This dip can be kept hot for parties by using a mini (1- to 2-quart) slow cooker. Cook the dip in the slow cooker until hot and melted throughout, at least an hour or two (depending on the wattage of your slow cooker), and keep the dip hot in the slow cooker throughout your party.
If you're short on time before serving this, alternately, you can quickly heat this according to the microwave directions above, and then transfer the already-heated dip to your mini slow cooker to keep it hot during your party.