LiveSmart: End of Summer Goodness – Peak, Fresh Produce Satisfies!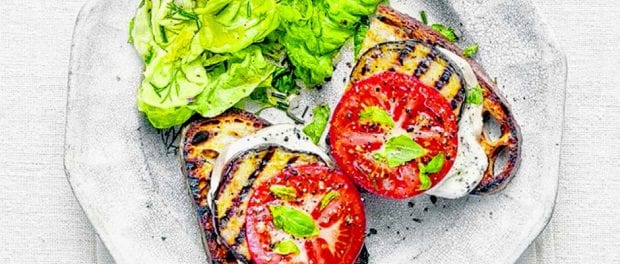 [This piece was written by Jamie Epting, MS, RD, CDN, the system director for clinical nutrition with St. Peter's Health Partners.]
The end of summer is upon us, but there is still some great late summer produce to be found at the farmer's markets and store. Some of my favorites – like eggplant, tomato and sweet corn – are at their best at this time of year.
Tomatoes come in a variety of beautiful colors and are packed with cancer fighting lycopene and boast an abundance of vitamin C, vitamin K, potassium and folate. Sweet corn provides about four grams of fiber per serving and also includes a good amount of vitamin C, thiamine and folate. And, let's be honest…they are both just delicious!
The eggplant, from a group of vegetables called nightshades, is full of health benefits including cancer fighting antioxidants and anti-inflammatory compounds. Both have been linked to reducing the risk of heart disease, which makes this beautiful purple egg-shaped vegetable both exceptionally delicious and nutritious.
If you're looking for some fancy treats to serve at your Labor Day picnic, check out the recipes below. The sweet corn and avocado salsa recipe from thespruceeats.com makes an awesome side dish or light snack with your favorite baked chips. Eggplant can serve as the centerpiece of your Labor Day picnic if you grill it up in round slices, seasoned with olive oil and spices, and serve it as a plant-based alternative to the traditional burger. Or, give the grilled eggplant and smoked mozarella rounds melts recipe from realsimple.com a try.
Happy Labor Day!
Sweet Corn & Avocado Salsa

3 ears sweet corn
1 sweet red pepper
1 small red onion
3 tablespoons vegetable oil
1 tablespoon lime juice
1 tablespoon red wine vinegar
1/2 teaspoon fine sea salt
1/4 teaspoon cayenne (optional)
1/4 teaspoon freshly ground black pepper
1 cup cilantro leaves
2 avocados

Cut the kernels from the ears of corn and put in a large bowl. Dice the red pepper and onion and add it in. In a small bowl, combine the olive oil, lime juice, vinegar, salt, pepper and cayenne and stir till combined; pour over the corn mixture and toss to coat. Refrigerate until ready to serve and then add diced avocado and minced cilantro.
Grilled Eggplant and Smoked Mozzarella Melts

Canola oil, for the grill
4 large slices country bread (1 inch thick)
2 medium eggplants, sliced 1/2 inch thick
1/4 cup olive oil, plus more for serving
Kosher salt and black pepper
1 clove garlic, halved
12 ounces smoked mozzarella, cut into 8 slices
2 large tomatoes, sliced
1 cup fresh basil
Green salad, for serving

Heat grill to medium. Oil the grill grate with the canola oil. Brush the bread and eggplant with the olive oil and season with 1/2 teaspoon salt and 1/4 teaspoon pepper. Grill the bread until browned and crisp, 1 to 2 minutes per side; rub with the garlic. Cut each slice in half crosswise. Grill the eggplant slices, turning occasionally, until tender, 6 to 8 minutes.

Place the mozzarella on top of the bread and grill, covered, just until warm and beginning to melt. Top with the eggplant, tomato, and basil. Drizzle with olive oil, sprinkle with salt and pepper, and serve with green salad.