LiveSmart: 3D Mammography Another Tool in Battle Against Breast Cancer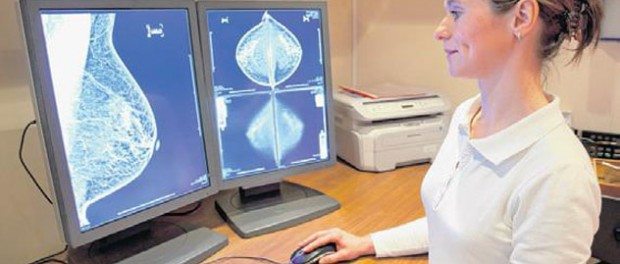 [This piece was written by Elizabeth Malloy, CRA, MSEd, RDMS, RT(R), CT, Supervisor of the Breast Imaging Center at St. Peter's Hospital.]
The American Cancer Society and the federal government recommend that all women over age 40 be screened for breast cancer by mammogram every year. One of the latest technologies available in the battle against breast cancer is 3-D mammography, also known as tomosynthesis.
By utilizing a technology similar to CT scans, 3-D mammography provides images of the breast through a process where the imaging machine moves over the breast in an arc, taking multiple X-rays that a computer then forms into a 3-D image.
The technology offers greater diagnostic accuracy, as radiologists can scroll through the layers of breast tissue easily to rule out issues, as well as identify cancers at their earliest stages. Younger women with dense breasts especially benefit from the technology, as the radiologist can examine the slices on the 3-D images and see the layers of breast tissue more clearly.
According to the American Cancer Society, approximately 10 percent of women are called back for additional tests – usually to look at an area more clearly – following a screening mammogram. With 3-D imaging, more information is gathered on the patient's initial visit, reducing the incidence of "call backs" for the evaluation of asymmetries.
Fully accredited in every modality, St. Peter's Breast Center (518-525-7536) has offered 3-D mammography since 2011, complementing its comprehensive range of breast health services including mammography, ultrasound, breast MRI, and breast biopsies.
St. Peter's Breast Center was the first center in the Tech Valley region to be named a Breast Imaging Center of Excellence by the American College of Radiology (ACR). St. Peter's provides breast health services in two convenient locations in Albany:
St. Peter's Breast Center is located on the third floor of 317 S. Manning Boulevard on the St. Peter's Hospital campus in Suite 305. The staff offers a full scope of services at this location.

St. Peter's Breast Center – Washington Avenue Mammography is located at 1365 Washington Avenue in Albany, Suite 202 in the medical arts complex. The services offered at this location include breast ultrasound, screening mammography and DEXA bone density scans.