LiveSmart: LSVT Big – Specialized Parkinson's Therapy Improves Mobility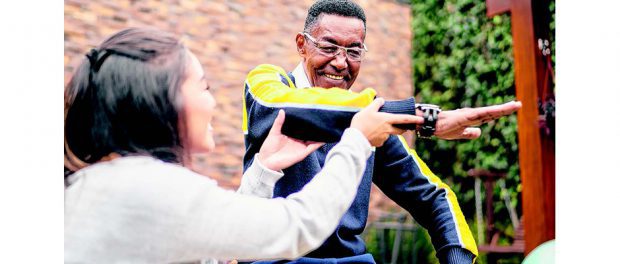 [This story was written by Mandy Dreisenstock, PT, Physical Medicine and Outpatient Rehabilitation, St. Peter's Health Partners.]
According to the Parkinson's Foundation, nearly one million people in the U.S. are living with Parkinson's disease (PD), and that number is expected to rise to 1.2 million by 2030.
PD is a progressive nervous system disorder that affects movement. Symptoms generally develop slowly over years and can be different for everyone, with tremors being the most common, alongside soft or slurred speech.
As the disease progresses, symptoms worsen to include muscle stiffness; slowing of movement; impaired posture, gait and balance; losing the ability to write; and loss of automatic movements (including blinking and swinging your arms when you walk).
What causes Parkinson's is largely still unknown, with scientists pointing to a combination of genetic and environmental factors. Although there is no cure, treatment options vary and include medications, physical therapies, and surgery.
For many individuals living with PD, physical therapy is crucial to moving well and for longer periods of time. With Parkinson's, individuals often find their movements becoming "slow and small" – for instance, in order to maintain balance, they may adopt a shuffling, small gait. Physical therapy can increase the size and scope of movements for those with PD, providing improved mobility, balance, activities of daily living, and overall quality of life.
LSVT BIG is a research-based exercise approach developed in 2002 for people with PD and other neurologic disorders such as stroke, multiple sclerosis, ataxia, Down Syndrome, and cerebral palsy. The goal is to improve normal movement through an intensive physical therapy program that slows the progression of PD's motor symptoms.
St. Peter's Health Partners' Physical Medicine and Outpatient Rehabilitation offers the LSVT BIG program at several of its locations throughout the Capital Region. Our LSVT BIG-certified therapists have led numerous patients through the four-week program, which includes four consecutive sessions each week, for 16 sessions in all.
Patients in the program have reported a range of symptom improvement including stronger walking, decreased fall risk, improved writing (achieving legibility in some cases when writing was nearly impossible at the start), and improved activities of daily living (e.g. dressing, putting away dishes, etc.). Participants are given "homework" to identify problem areas, which they can target with additional occupational and speech therapy for issues like voice and swallowing difficulties.
Physical medicine and outpatient rehabilitation services from St. Peter's Health Partners help you move through life on your terms. We are one of the Capital Region's most trusted programs, with a broad range of services at locations throughout the Capital Region that relieve pain and make the most of your abilities.
Our knowledgeable therapists take time to get to know you and personalize your care, so you are more likely to achieve your goals. Whether you are managing the effects of a neurologic disorder such as Parkinson's, recovering from surgery, or learning new methods to perform daily tasks when a medical condition limits your physical or mental abilities, St. Peter's is here for you.
For more information, visit us by clicking HERE or call our Rehabilitation Services at Albany Memorial Campus at 518-471-3195.