LiveSmart: Making Meals and Memories with Mom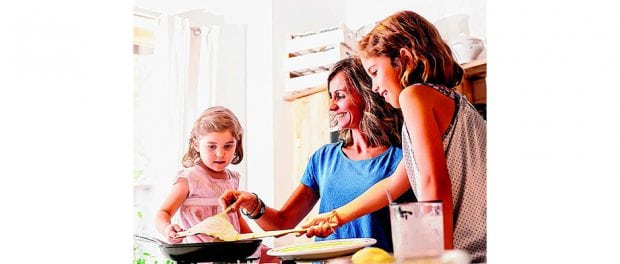 [This piece was written by Liz Katzman, RD, CDN, a clinical dietitian with St. Peter's Health Partners.]
"Moms love you no matter what, are nice, and are fun to cook with!" said my daughter, Charlotte, when asked why moms are special.
Charlotte started cooking with me at two years old, as an attempt to keep her entertained one crazy afternoon. Despite the impressive mess she made, it transformed into mommy-daughter time that secretly teaches her important life skills.
With Mother's Day fast approaching, I wanted to celebrate our favorite pastime with two special recipes: Charlotte's Berry Parfait, an easy breakfast an 8-year-old could make all by herself this Sunday morning, and Pam Anderson's Multigrain Medallions, a favorite in our house that could either be made with Mom or for her with the help of another adult.
Charlotte's Berry Parfait

INGREDIENTS

½ cup blueberries

¼ cup blackberries

¼ cup raspberries

1 Tbsp chocolate chips (optional)

¼ cup granola

¾ cup plain or vanilla yogurt

DIRECTIONS: Mix berries, chocolate chips, and granola together in a bowl. Top with dollops of yogurt to look like whipped cream and serve.
Pam Anderson's Multigrain Medallions

(source: http://www.runnersworldonline.com.au/pancakes-your-perfect-fuel/)

MAKES: 16 pancakes

SERVES: 8

INGREDIENTS

1 cup white flour

1/3 cup each: cornmeal, whole-wheat flour, and old-fashioned rolled oats

4 teaspoons sugar

1 teaspoon salt

1 teaspoon baking powder

½ teaspoon baking soda

1 ½ cups low-fat buttermilk

½ cup low-fat milk (or water)

2 large eggs

2 Tbsp vegetable oil, plus extra for brushing the griddle

1 teaspoon vanilla

DIRECTIONS: Heat a large non-stick skillet or griddle over low heat. Mix flour, whole grains, sugar, salt, baking powder and baking soda in a bowl. Note: white flour is included to provide fluffiness. If you don't have all three whole grains, pick one and use the following ratios: 1:2 whole wheat to white; 1:1 oats/cornmeal to white. Microwave buttermilk and milk for 30 seconds in a 2-cup measuring cup. Whisk in eggs, oil and vanilla. Pour wet ingredients into dry; whisk until just mixed. Return batter to measuring cup. Increase heat to medium and brush skillet with oil. When oil starts to shimmer, pour batter 1/4 cup at a time. When pancake bottoms are golden brown and tops start to bubble, after about 2 to 3 minutes, flip pancakes; cook until golden brown on other side. Repeat, brushing skillet or griddle with oil. Serve hot.