LiveSmart: Breastfeeding Benefits Both Mom & Baby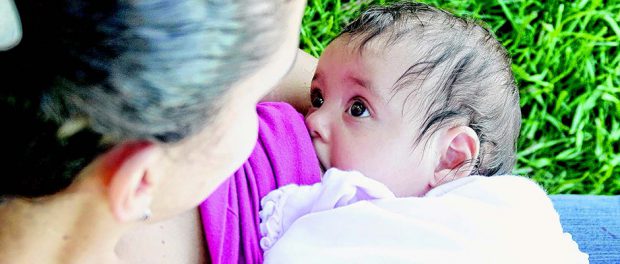 [This piece was written by Carla Barberis-Ryan, MHSA, MSN, RN, NE-BC, Director, Women's & Children's Services at St. Peter's Hospital.]
Everyone knows that Mother Nature provides the perfect food for human infants – breast milk from mom. Countless studies have shown the many health benefits of breast milk for infants, as well as the profound impact it has in contributing to a lifetime of good health for the child.
What many may not know is the act of breast feeding has tangible benefits for mom, as well.
For mom, breastfeeding is easier and economical because it eliminates the need to buy and prepare formula or sterilize bottles. The process also provides mothers with a special calm, quiet time to relax and bond with their baby – and even provide some needed rest.
Numerous studies have shown measurable health benefits for nursing moms. Breast-feeding promotes more rapid weight loss and recovery from childbirth. In turn, breastfeeding moms are at reduced risk of cardiovascular disease and obesity.
Mothers who breastfeed also decrease their risks for breast, uterine, and ovarian cancers. Current research also shows moms who breastfeed have a reduced instance of type-2 diabetes and osteoporosis.
The American Academy of Pediatrics and The World Health Organization recommend that mothers breastfeed exclusively for the first six months of life, without supplements. At six months, other foods should complement breastfeeding. Breastfeeding should continue for 12 months, or longer if the mother or child desires.
St. Peter's Hospital, an affiliate of St. Peter's Health Partners, has one of the area's most comprehensive lactation and childbirth programs in the area. Our lactation services include a breastfeeding preparation class, breastfeeding support group for all area mothers who wish to attend, as well as continuing support and care of new breastfeeding mothers after they and their newborn have been discharged from St. Peter's.
St. Peter's recently received the 2018 Women's Choice Award as one of America's Best Hospitals for obstetrics for the fourth consecutive year. This follows last year's recognition as an international "Baby-Friendly" hospital, with St. Peter's being the first in the Capital Region to earn the designation.
For information on delivering a baby at St. Peter's Hospital, as well as information on breastfeeding, placental donation, infant care, or parenting classes, please call 518-525-1388 or visit http://www.sphcs.org/WomensHealth
From all of us here at St. Peter's Hospital, best wishes to all the moms for a very happy Mother's Day!