LiveSmart: Minimally Invasive Treatments Available in the Battle Against Colorectal Cancer and Pre-Cancerous Polyps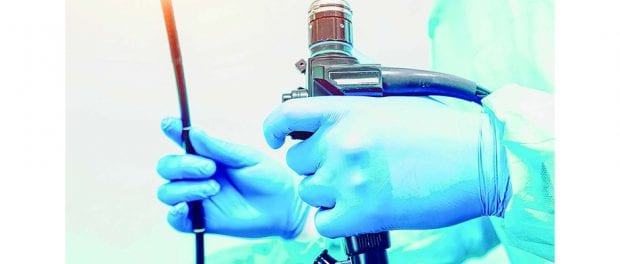 [This story was written by Joseph Choma, MD, Gastroenterologist/Advanced Endoscopist, with Albany Gastroenterology Consultants and St. Peter's Hospital Advanced Endoscopy and Hepatobiliary Center.]
While colorectal cancer remains the second leading cause of cancer-related deaths in the United States, tremendous progress has been made in recent years.
In fact, newly diagnosed cases and deaths due to colorectal cancer are on the decline. This is mostly thanks to increased awareness of the need for screening, and in turn, early detection and treatment of the disease.
While there is still much work to be done, there is hope.
Minimally Invasive Endoscopic Treatment Options – ESD, EMR, and EFTR
Typically, when pre-cancerous polyps are detected during a screening colonoscopy, they are removed endoscopically. Until recently, larger polyps required surgical removal. Newer options for minimally invasive treatment, including endoscopic mucosal resection (EMR), endoscopic surgical dissection (ESD), and endoscopic full thickness resection (EFTR) offer patients the opportunity to be cured of large polyps without the need for surgery.
Some patients with early-stage cancer are also appropriate to be considered for endoscopic treatment as a definitive cure. When surgery is required, it can now often be performed with minimally-invasive laparoscopic or robotic techniques using small incisions.
If colorectal cancer is not detected at an early stage, additional treatment such as chemotherapy and/or radiation treatment may be needed. Depending on the stage, these treatments may be given prior to removal and at other times after removal of the tumor. Precise staging of tumors is very important and often obtained using endoscopic techniques and imaging tests such as CT, MRI and PET scans.
Advances in chemotherapy drugs and management of their side-effects, as well as technological advances in radiation therapy including image-guided treatment, have improved colorectal cancer care and outcomes.
Better Outcomes
Evidence shows that clinical outcomes are improved in centers that perform higher numbers of endoscopic procedures and cancer surgery. St. Peter's Hospital Advanced Endoscopy & Hepatobiliary Center is at the forefront of interventional endoscopic procedures. We offer access to cutting-edge technology and expertise to maximize diagnostic and therapeutic treatment options. Our advanced interventional endoscopists from Albany Gastroenterology Consultants perform more outpatient procedures than any other hospital in New York state.
Albany Gastroenterology Consultants is located at 1375 Washington Ave., Suite 101, in Albany, directly across from the University at Albany SUNY campus.
St. Peter's Hospital Advanced Endoscopy & Hepatobiliary Center is located at St. Peter's Hospital, 315 South Manning Blvd. in Albany.
For more information, please call 518-438-4483.