LiveSmart: November is Pancreatic Cancer Awareness Month – Know Your Pancreas!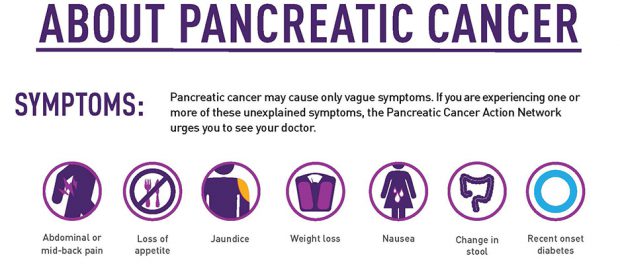 [This piece was written by Rebecca Keim, MD, a hepatobiliary, pancreatic & general surgeon with St. Peter's Hepatobiliary & Pancreatic Surgery, part of St. Peter's Hospital Advanced Endoscopy & Hepatobiliary Center.]
This November, in honor of Pancreatic Cancer Awareness Month, the Pancreatic Cancer Action Network (PANCAN) encourages you to "Know Your Pancreas."
In its early stages, pancreas cancer may only cause vague or unexplained symptoms, often advancing through stages undetected. For this reason, it is the deadliest major cancer with the lowest five-year survival rate of just nine percent.
Currently, there is no early detection test available to diagnose pancreas cancer. But, a patient's chance of survival can potentially increase tenfold if their cancer is diagnosed in time for surgery – making early detection paramount.
So, how well do you really know your pancreas? Would you recognize early signs and symptoms of pancreas cancer in yourself or a loved one?
Symptoms
If you experience one or more of the symptoms below recurrently, contact your health care provider.
Jaundice (yellowing of the skin and/or eyes) and itching of the skin
Dark urine and clay-colored stools
Loss of appetite and unexplained weight loss
Nausea and vomiting
Severe pain or discomfort in the upper part of the abdomen or upper back
Fatigue and weakness
Recent-onset diabetes
Diagnosis and Treatment
Pancreas cancer is usually diagnosed with imaging studies (MRI or a CT scan) after the onset of symptoms. Advanced endoscopic techniques are then used to further evaluate and obtain biopsies of the pancreas.
When pancreas cancer is caught in its earliest stages, surgery, combined with multi-modality therapy including chemotherapy and radiation, offers the best chance of long-term survival. Surgery may be performed laparoscopically, robotically, or via traditional open incisions.
 Risk Factors
Researchers are still working to understand the exact causes of pancreas cancer. But studies have identified factors that could potentially increase an individual's risk of developing the disease.
Smoking
A family history of pancreas cancer
Long-standing diabetes (five years or more)
Chronic pancreatitis
Obesity
Certain pre-malignant pancreatic cysts
Prevention and Surveillance
If you have a strong family history of pancreas cancer (mother, father, sibling or child who has had pancreas cancer), surveillance through imaging or endoscopy may be appropriate.
Certain pancreatic cysts that are pre-malignant can be removed surgically as a means to decrease a patient's risk of developing pancreas cancer.
If you think you may be at risk for developing pancreas cancer, you should discuss your unique risk factors with your health care provider. They can help determine your actual risk and eligibility for a screening program of genetic counseling.
At St. Peter's Hospital Advanced Endoscopy & Hepatobiliary Center, we offer access to the latest, advanced diagnostic and treatment options for pancreas cancer. Our physicians work together as a highly specialized team from oncology, surgery, radiation oncology, radiology, pathology, and gastroenterology. This multidisciplinary approach allows us to tailor treatment plans to the unique needs of each patient.
Our board-certified and fellowship-trained hepatobiliary and pancreatic surgeons perform the most liver and pancreas surgeries in upstate New York.
For more information on pancreas cancer and the treatment options available, call us at (877) 525-2227.