LiveSmart: Oh, My Aching Thumb!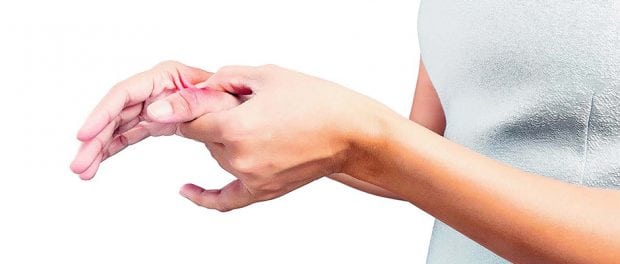 [This piece was written by Carol Hennessy, OTR, CHT, an occupational therapist at St. Peter's Physical Therapy & Fitness.]
A very common source of pain, especially in woman over the age of 40, is the base of the thumb. This joint is called the carpometacarpal (CMC) joint.
The reasons behind this pain can be many. For some, arthritis at the joint may cause swelling, stiffness, and decreased strength when pinching or gripping. You may notice a bony or enlarged joint at the base of the thumb.
For some, additional pain comes from muscle tightness in the web space, referred to as "guarding," because the tight muscle has been guarding the painful joint. The shortened muscle restricts your natural motion and causes further stress on the joint, making grasping large items such as cans or bottles difficult.
As we age, the cartilage that pads the joint space can also deteriorate and cause bone on bone friction. The damage causes pain and instability in the thumb joint. Simple tasks such as fastening a button, holding a coffee cup or even holding a book can become painful.
If these symptoms persist, a visit to your physician is suggested. An X-ray can reveal the worn cartilage, instability or a bone spur that may have developed. Initial treatment includes medication to help relieve pain and inflammation and splinting to help position and rest the joint.
Early referral to an occupational therapist (OT) or hand therapist is important. The OT can evaluate you for the most appropriate hand splint, or fabricate a custom splint if needed. The OT can educate you on activity modification and self-care to preserve your joints and prevent further damage.
The occupational therapist may suggest adaptive equipment such as built up handles for hair care or kitchen utensils. Items such as a key turner, jar opener or button aide can also prove to be helpful.
Occupational therapy treatment can include modalities such as heat, ice, paraffin or fluidotherapy (dry whirlpool). These treatments, along with specific exercises emphasizing maintenance of the thumb web space and strengthening the small muscles of the hand, can go a long way to help prevent long standing pain and damage.
If you are suffering from CMC joint pain, talk to your physician and ask for a referral to hand therapy for a thorough evaluation.
St. Peter's Physical Therapy & Fitness offers a full range of outpatient physical and occupational therapy services, at 1240 New Scotland Road in Slingerlands. Our occupational/hand therapist has more than 30 years of experience.
St. Peter's Health Partners Patient Therapies has a variety of outpatient occupational therapists at locations throughout the Capital District, accepting all insurances and providing quality one-on-one treatment. For information, please call 518-475-1818.