LiveSmart: The Original Face Time – The Family Meal Table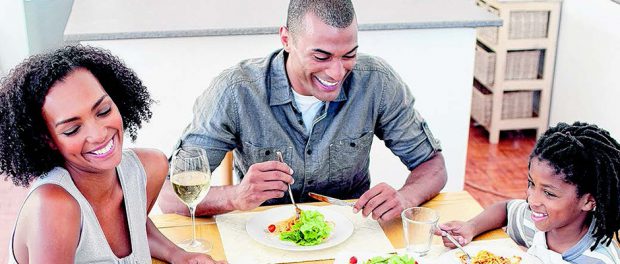 [This piece was written by Jamie Epting, MS, RD, and Emily Gervais, RD, from Clinical Nutrition at St. Peter's Health Partners.]
Most American families are searching for ways to spend more time together and what better way to do so than sitting down to a family meal? A time to relax, decompress from the day, and just enjoy each other's company.
Not only do family meals provide the quality time that families so desire, they have health benefits too! A recent Cornell University study showed children who regularly sit down to family meals are significantly less likely to have an eating disorder, and are more likely to eat more nutritious foods and be at a healthy weight.
When clinicians discuss family meal time, there is widespread agreement it is not just the act of sitting down to a meal. Meal preparation and having the entire family involved from start to finish is just as important. Research has shown a direct correlation between learning to prepare meals at home and an increase in fruit and vegetable consumption.
How best to involve the entire family? Have young children stir the pot or add seasonings; older children can chop vegetables (with safety knives!) or help plan menus. Try adding a new and exciting ingredient every week to pique their interest. Recipes do not have to be gourmet; many easy family meal ideas are available in cookbooks and on the internet.
A great way to build interest is starting traditions such as "Meatless Monday" or "Taco Tuesday." If your budget is tight, look for sales or weekly deals to try new ingredients. If time is limited during the week, try spending the weekend with your family preparing crock pot or freezer meals.
Take it one step further and involve children with the shopping process. Visit the grocery store or local farmers' markets and sample local produce. Take them to a local orchard to pick their own fruits or vegetables. Imagine taking your family to pick berries, taking the fruits of your labor home, and making jam that will add a healthy dose of antioxidants to oatmeal or a sandwich. The jam will taste far more satisfying to them, knowing they were involved in the process!
There is no magic number on how many nights should be spent around the family table, just aim for as many as your schedule allows. Don't forget – breakfast and lunch count, too! Having the family involved in shopping, planning, preparing and cooking might just be the family time you have been looking for all along.
Try this recipe with your kids from www.eatright.org for a great back to school snack! 
No-Bake Chocolate Cherry Oat Bars Recipe

Ingredients

2 cups rolled oats

1½ cups rice cereal

½ teaspoon salt

½ cup peanut butter

4 ounces chopped 60-percent cacao bittersweet chocolate, or ¾ cup chocolate chips

¼ cup coconut oil

¼ cup honey

1 cup (about 5 ounces) dried cherries

Directions

Line a 13-by-9-inch baking pan with parchment paper, leaving a bit of paper to hang over the sides.
Combine oats, rice cereal and salt in a large bowl.
Melt together peanut butter, chocolate chips, coconut oil and honey in a saucepan over medium heat, stirring frequently.
Pour wet mixture over oat mixture. Stir to combine.
Stir in dried cherries.
Pour mixture into prepared pan. Press to evenly cover the bottom of the pan.
Chill for at least 3 hours. Remove from pan using overhang of paper as handles. Cut into 28 bars. Store in the refrigerator.

Cooking Note

Substitute gluten-free rolled oats and rice cereal, if needed.

Nutrition Information

Serving size: 1 bar
Serves 28

Calories: 141; Total fat: 7g; Saturated fat: 3g; Cholesterol: 0mg; Sodium: 70mg; Carbohydrates: 19g; Fiber: 2g; Sugars: 9g; Protein: 3g; Potassium: 112mg; Phosphorus: 83mg