LiveSmart: Painful Respiration – Could it be Pleurisy?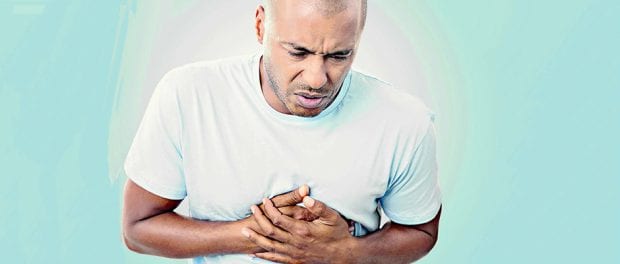 [This piece was peer reviewed/edited by Dr. Christopher Guzda, DO, director of emergency medicine at Albany Memorial Hospital.]
If you have a sharp pain in your chest or side when you breathe in and out, you may have pleurisy.
Pleurisy occurs when the double membrane that surrounds each of the lungs becomes inflamed. Normally, the two slide over each other like satin. However, when they are inflamed, they rub together, causing pain when you inhale, exhale, cough, sneeze or move.
There are a variety of conditions and infections that can cause pleurisy, including:
An acute viral infection, such as the flu (influenza)
Pneumonia, tuberculosis or other infections
Autoimmune conditions, such as lupus, rheumatoid arthritis and autoimmune hepatitis
A blood clot in your lungs (pulmonary embolism)
Fluid in the lung (pleural effusion)
Post trauma
Rib fracture
Inflammation around the heart, including from heart surgery
Post radiation from treating lung cancer
The symptoms of pleurisy include an intense, persistent chest pain; shortness of breath; and fever. These symptoms can be indicative of several different serious health issues, so if you are experiencing them it is important to see a doctor as soon as possible.
Along with a physical exam, the doctor may use X-rays or a CT scan to diagnose the problem. A blood test can confirm if it is an infection or an autoimmune disorder. If the cause is bacteria, treatment with an antibiotic should clear it up in several days. Over-the-counter or prescription painkillers or anti-inflammatory drugs may help relieve the pain.
In the event of a more serious case, one with a large buildup of fluid, a hospital stay may be necessary. In some instances, the fluid can be drained under local anesthetic, with a needle inserted into the chest (thoracentesis). Other cases may require draining the fluid over a period of several days through a tube inserted into the patient's chest. If a blood clot in the patient's lungs has caused the issue, blood thinning drugs may also be administered to dissolve the clot.
When every second counts, St. Peter's Health Partners has top-quality emergency departments and urgent care centers all across the Capital Region. Our emergency departments in Albany and Troy are open 24 hours, seven days a week, offering a wide range of services for emergency care with highly trained staff, diagnostic testing and access to specialists.
Our emergency departments are located at:
Albany Memorial Hospital
600 Northern Blvd., Albany
Samaritan Hospital
2215 Burdett Ave., Troy
St. Peter's Hospital
315 South Manning Blvd., Albany
For more information, visit us at http://www.sphp.com/ed-urgent-care