LiveSmart: Put 'Training for a 5K' on Your Fall To-Do List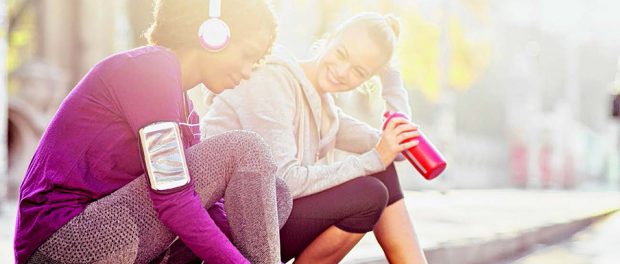 [This piece was written by Patrick O'Connor, Physical Therapy Assistant, St. Peter's Employee Fitness Center.]
Running local 5K races through the crisp autumn air amid the changing leaves can be a delightful experience and great reward for starting and maintaining a training regimen. If you're a beginner who'd like to start striding for success, here are a few tips to get you on the right path.
Get a good pair of running shoes. Ask a reputable local fitness store for advice; A few stores can also do an analysis of your gait to find the right kind of footwear.
Make sure you can run safely. Ask your primary care physician if it's OK to start. Because of your age or condition, the physician may want to give you a stress test with an electrocardiogram (EKG). He/she may also be concerned if you have certain risk factors, such as high blood pressure, history of smoking, or of family heart disease; OR if you feel pain or pressure in your chest, neck or arms after exercise, have dizzy spells or bone or joint problems, such as arthritis.
Ease into it: Do a walk/run cycle at first and gradually increase the jogging component. The goal is, "Train, not strain." Don't run so far, so fast, or so often at the start that you get injured. For example, you should be able to talk comfortably while you're running. If you can't hold a conversation while running, you're overexerting.
Good form: Land on your heels or midfoot. Don't bounce; try to land softly, as if running on eggshells. Keep your arms relaxed at about a 90-degree angle at waist level. Head up, shoulders straight and level.
Cross-training: The pounding from the pavement can be tough on muscles and joints. While giving them a break, you can do other cardio work by biking, swimming or using an elliptical trainer.
Schedule: There are several good schedules to be found on the internet – Google "Couch to 5K" and you'll see a variety of programs that promote a combination of walking/running to start you off right. They provide mileage buildup schedules that suggest different distances to run on various days, alternating with rest or cardio workouts. Following the schedule means you won't be guessing.
Soreness: Soreness is normal, but pain is a warning signal. Take a break from running and see your physician.
Join the pack! The Hudson Mohawk Road Runners Club sponsors many races and is a great source for finding running partners, inspiration and advice. And check with your employer, too – lots of places offer opportunities for employees to get fit, knowing it is more fun when you are in good company!