LiveSmart: Reduce Your Cancer Risk with Delicious, Healthy Food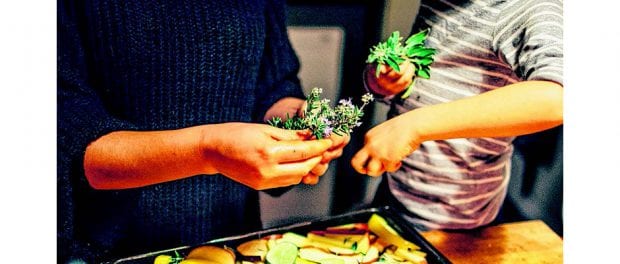 [This story was written by Aimee Croft, RD, lead dietitian for St. Peter's Hospital.]
The month of February is full of hearts and lace as we embrace the iconic valentines, but let us not leave out our real heart! Healthy eating habits benefit the heart, of course, but they are also good for your gut and prevention of disease, including cancer. The good news is eating healthy for cancer prevention can fit well with an overall diet for good health.
Start with the recommended five or more servings of fruits and vegetables daily. It can be challenging if you are not in the habit already, so start small and build on your successes.
Incorporate yellow vegetables such as yellow peppers and dark green leafy vegetables such as kale and spinach. A side of fruit and some veggies in your eggs for breakfast and you are already starting on the right foot. Lunch can include a salad but, if you are looking for something a bit warmer in these chilly months, try an extra serving of steamed vegetables.
Including whole grains in your diet will help to prevent disease and some of the extra pounds associated with poor dietary choices. Whole grains are sometimes boring, but you can pep them up with fun stir-fries featuring kamut (an ancient grain) or swap out brown rice for white rice in your favorite dishes. As an added bonus, adding oats to your cooking will also help lower your cholesterol.
Cutting back on processed foods, especially meats, is a good step towards reducing your risk for colon cancer. This includes lunchmeats, sausage, and bacon. Swap out your noontime sandwich for a salad with beans or a peanut butter sandwich on whole wheat bread for better colon health. And cutting back on processed meats will also help your heart health.
Meatless Mondays are a great way to start the habit of healthier eating. My family enjoys bean chili and lentil burritos, where we add in a healthy serving of high-fiber, low-fat legumes, replacing higher-cost, higher-fat meats. Check out the lentil burrito recipe below; you might just discover a new family favorite.
Here's to eating deliciously for good health in 2020!
Lentil Burritos

From www.tasteofhome.com


Ingredients

2 cups water
1 cup dried brown lentils
2 tablespoons dried minced onion
1/2 teaspoon dried minced garlic
1/2 teaspoon ground cumin
1/8 teaspoon hot pepper sauce
1 small zucchini, chopped
1 cup taco sauce
1 cup shredded part-skim mozzarella cheese
8 flour tortillas (8 inches), warmed

Directions

Place first six ingredients in a large saucepan; bring to a boil. Reduce heat; simmer, covered, until lentils are tender, 15-20 minutes. Drain if necessary.
Stir zucchini, taco sauce and cheese into lentils. To serve, place about 1/2 cup lentil mixture on each tortilla and roll up.