LiveSmart: Set Taste Buds for Adventure! Getting Kids to Try New Foods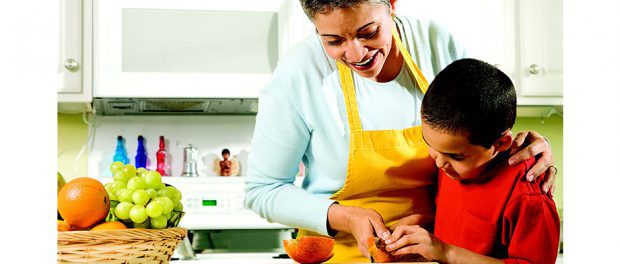 [This piece was written by Aimee Croft, RD, coordinator of interns, volunteers, and community outreach for the Clinical Nutrition Department, St. Peter's Health Partners.]
If you are trying to teach your kids about eating a variety of foods, start by inviting them into the kitchen! There is a wide world of exciting culinary possibilities for them to discover, particularly in spring with all the delicious fruits and vegetables. Here are a few ideas about how to involve kids in cooking and exploring new foods.
Ask for help with meal planning. Allow kids to choose healthy recipes to add to the family's weekly menu. They will feel special and helpful.
Go on an adventure to the grocery store together. Shop for your ingredients and let them choose a new fruit or vegetable to try.
Have kids measure, sort, stir, and mix. Little hands in the kitchen can be a big help. Even if there is a big mess, time in the kitchen will develop confidence, build basic cooking skills, and encourage experimentation.
Food is fun to play with and to eat! Try making fun shapes with foods and create themes for meal times. Discover what type of animal or building your child can piece together with cut out shapes. And be sure to check out the recipe at the end of the article.
When you are trying something new, use all your senses! Encourage your picky eater to smell, lick, and use all senses to explore new foods. Ask what they notice about the texture, color, and shape.
Make a whole day around the new food. Discover where it comes from, how it is grown, and what the food may mean to your family. You can also visit the local library and take out books related to the food you are trying.
Be patient! It may take several offerings for a picky eater to try a new food. Preparing a separate meal for your child may encourage the picky eating, so serve new foods alongside familiar foods.
Most of all, be the best role model and try new foods yourself!
To inspire your next adventure, try this fun snack. Remember, it's more fun when you make it together!
Bunny Salad

(Courtesy of Betty Crocker's New Boys and Girls Cookbook published in 1965)

Set half a pear (cut side down) on top of several lettuce leaves.

Use two raisins for eyes and another one for a nose.

Select almond slices or dried banana slices for ears.

Add a small scoop of cottage cheese for the tail.

Serve with carrot sticks for extra crunch!