LiveSmart: Spread Holiday Cheer and Love with Homemade Biscotti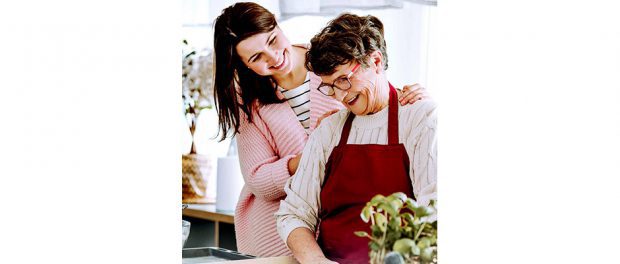 [This article was written by Alexandra Cervini, MS, RD, CDN, Lead Dietitian for Samaritan Hospital, St. Peter's Health Partners.]
We've all had a long year and a half, that's for sure. Any chance I have to spread some kindness and positive energy out into the world, I do. And the holidays, in particular, are a wonderful time to make someone feel appreciated.
An easy way to show someone you care is taking the time to bake up something special for them. And when you aren't the world's best baker (like me), you call up your mom and they bail you out!
My mom is a fantastic baker whose cookies are famous in my hometown of Mechanicville. As I get older, my mom has been teaching me how to make her traditional recipes, step by step. One of my favorites is her white chocolate chip hazelnut biscotti. Our beloved friend Martha passed this recipe down to us.
Biscotti are a traditional Italian pastry. They are dry and crisp because they are baked twice. It's the perfect cookie to pair with a cold glass of milk, or to dunk in your hot coffee or tea. These biscotti cookies are easy to make for holiday gifts or as the centerpiece of a cookie platter.
Biscotti are a nice option when baking for the holidays because they last longer than other types of cookies and do not break easily. They can be stored in an airtight container on the counter for days without going stale. You can also substitute different ingredients to create different flavor profiles in your biscotti, but this recipe is by far my favorite.
Happy holidays to all and happy baking!
White Chocolate Hazelnut Biscotti

(Recipe from Martha)

Ingredients

1 stick of butter (room temperature)

¾ cup of sugar

2 eggs

1 tsp of pure vanilla extract

2 cups flour

1 ½ tsp baking powder

¼ tsp salt

1 cup chopped and toasted hazelnuts

2/3 cup white chocolate chips

Directions

Preheat oven to 350 degrees Fahrenheit.
Grease cookie sheet.
In a bowl, beat butter and sugar together until fluffy.
In a separate bowl, beat eggs, add vanilla extract.
Blend in flour, baking powder, salt.
Add hazelnuts and white chocolate chips and mix until incorporated into a dough.
Divide dough in half. Make 2 separate "bars," approximately 2″ wide by 12″ long.
Bake 2" apart for 25 min.
Cool for 10 min.
Cut ½ inch wide slices.
Place on a separate cookie sheet.
Bake for 10-12 minute more until golden brown.
Cool and serve. Enjoy!